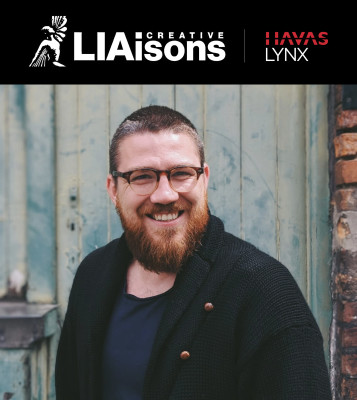 In the build up to this year's London International Awards, we'll be chatting to various young creatives who have been selected to represent their agencies at the Creative LIAisons programme in Las Vegas. This week we caught up with John McPartland, Senior Art Director at Havas Lynx Manchester:
Advertising Health (AH) : First of all, congratulations on being selected to represent Havas Lynx at the prestigious LIAisons programme in Las Vegas!
John McPartland (JM): Thanks, it was a bit of a surprise and I'm hoping my ginger complexion can withstand a week in the dessert.
AH: What are you looking forward to most about being part of the 2018 Creative LIAisons?
JM: To be honest there isn't one thing I'm looking forward to the most. Hearing talks and insights from some of the best in the industry, being a fly on the wall as we see jurors put some great work to the test, and all whilst being surrounded by other great creatives from around the world.
AH: As a senior creative at Havas Lynx, you're well aware of the regulations within Healthcare. Do you think shows like the LIA are helping to inspire clients and agencies to make better work?
JM: Absolutley.
There has long been a preconception of 'that's what we do in healthcare', but that has nothing to do with regulations and everything to do with fitting into what they see as the status quo, moving people away from what they feel comfortable with is always a struggle.
Thankfully shows such as LIA are finally bringing to light the great work that is being done within our industry. Helping clients see that all work doesn't have to be beige monotomous wallpaper, but it can be a work of art you would proudly hang on the wall.  
AH: What do you think about the current state of Healthcare advertising?
JM: Full recovery. For the past few years healthcare has been going from strength to strength, it's been a case of keeping up with the Jonses (or the Bernbachs or McCanns). When I first started in healthcare there were a few campaigns a year where I thought, you b******ds, why didn't I think of that. Now theres a few a month.
AH: Are there any trends you're seeing in the work?
JM: What has been great over this past year is that we have stripped away all of the complexities that naturally come with healthcare and began to create simple,
powerful ideas, beautifully made.
For a while we have been creating some brilliantly crafted press campaigns, but that level of craft seems to have made its way over to film as well.
Hopefully these won't be just trends but are now the benchmark for work in healthcare.
AH: Are there any healthcare campaigns you've seen recently that you think will fare well at this year's London International Awards?
JM: If I ever want a brew making for me again I'll have to mention our work, picking up so much at Cannes was a great surprise for us, and we've got our fingers crossed the work will fare well at LIA too. The Rape Tax by Area 23 was a campaign that had a powerful message, simply told throughout multiple media executions and brilliantly art directed. I aslo loved the 'No Needles' radio ad for Dexicom, a great radio ad is rare, a great radio ad in healthcare is even rarer.
AH: Is Havas Lynx working on anything exciting at the moment? (That you can mention)
JM: We are working on some really interesting projects at the moment, most of which aren't launched so I'd best not give them away just yet.
AH: What's the best piece of advice you've ever received in your career so far?
JM: Pick your battles. Naturally we have a tendency to fight for every piece of work, and if you're not carefull it can quickly wear you down. Learn where to spot the opportunities and then focus your energy on making those projects as great as you can.
Somebody once bought me a pinbadge that says 'Don't be a dick'. I have no idea why.
AH: Any tips for other creatives working in Healthcare?
JM: Try not to let regulations restrict your thinking, the nature of what we do is problem solving so treat them as problems you need to solve. The satisfaction you will get from getting a killer idea out the door is great.
Whenever somebody says "you can't say that", there's usually a way you can.
AH: Cheers John. See you in Vegas!
JM: Thanks, I'll be the one stood out of direct sunlight.
(Follow John's journey during the Creative LIAisons programme on Instagram;  LinkedIn or via the Havas Lynx Blog.)