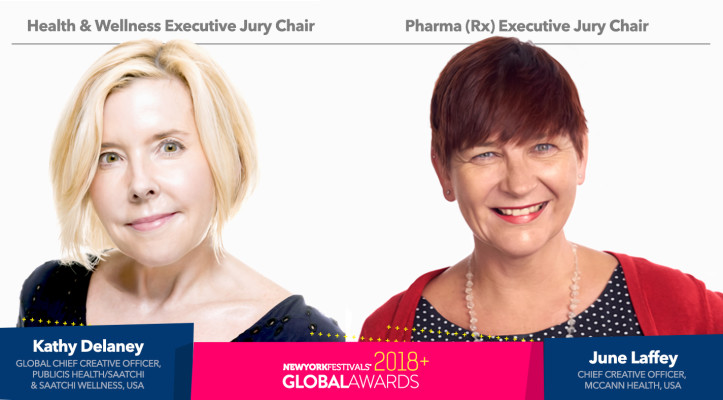 Global Awards Announces 2018 Jury Chairs: Kathy Delaney, Global Chief Creative Officer, Publicis Health and June Laffey, Chief Creative Officer, McCann Health
New York Festivals Global Awards® 2018 competition, now in its 24th year, has announced the 2018 Executive Jury Chairs.
Internationally acclaimed global leaders, Kathy Delaney, Global Chief Creative Officer, Publicis Health and June Laffey, Chief Creative Officer, McCann Health will chair the 2018 Global Awards Health & Wellness and Pharma (Rx) Executive Jury panels, respectively.
Kathy Delaney, the 2018 Health & Wellness Executive Jury chair, was named one of "The Most Creative Women in Advertising" by Business Insider, and her work has been recognized by an endless array of organizations and competitions. She previously spent 12 years at Deutsch New York, where she helped to grow the company from a small boutique agency into an integrated marketing powerhouse. This year, Kathy was inducted into the MM&M Hall of Femme and named an HBA Luminary. She's known to use her bold, creative vision to tell compelling human-centric stories that promote health and wellness while creating strong results for the agency's clients.
June Laffey, 2018 Pharma (Rx) Executive Jury chair previously served as Regional Executive Creative Director for McCann Health Australia & Southeast Asiasince 2016. She holds the distinction of being the most awarded female creative leader in the history of McCann Worldgroup Asia Pacific. June has also had a long association with the Global awards, having initiated Bravo! – the Global Awards ceremony in APAC, which was the inspiration for the ceremony in New York. June has also consistently served on the Global Awards Executive jury in New York. She is known for bringing passion, integrity, and love into every jury room she enters.
"Another year, another set of incredible executive jurors.  We're excited to have these prominent creative leaders on board to lead the 2018 Globals Executive Jury sessions," said Fran Pollaro, Executive Director, Global Awards. "These powerhouse sessions determine which innovative creative ideas will achieve Global-level work and which incredible piece will be declared the Best of Show."
Elizabeth Elfenbein, Chairwoman for The Global Awards had this to say about the 2018 Executive Jury Chairs, "Couldn't be more thrilled to have these powerful empathetic women leaders join the Global Awards as Health & Wellness and Pharma Jury Chairs. Not only are they both incredibly accomplished creatives, they also truly care about their ability to impact society's overall health. As chairs, they will serve their respective juries with the goal being to stimulate a conversation around the quality of the ideas in every dimension, as well to discuss the future of our industry and how we as creative leaders intend on helping move it forward. Our intent is that the executive jury leave the judging experience FEELING CREATIVE and that they each had a voice in what world class ideas look like."
All entries into the 2018 Global Awards will be judged by the competition's two-tiered jury process, the online Grand Jury and Global Live Sessions hosted at prominent international healthcare communication agencies, and the live Executive Health & Wellness and Pharma (Rx) Juries.
Global Awards' Executive Jury and Grand Jury are recruited from more than 20 countries on six continents. The Global Awards jury selection process ensures that each entry is judged by renowned international talent with global knowledge and perspective from the industry. Specialized separate Consumer and Pharma (Rx) Executive Juries were announced in 2017 to evaluate creative entries within the Consumer and Pharma (Rx). These split juries allowed entries to compete with those submissions within their own competition.
The 2018 Global Award winners will be announced this November.
For more information, and to enter the 2018 Global Awards, please visit the competition website at www.theglobalawards.com.