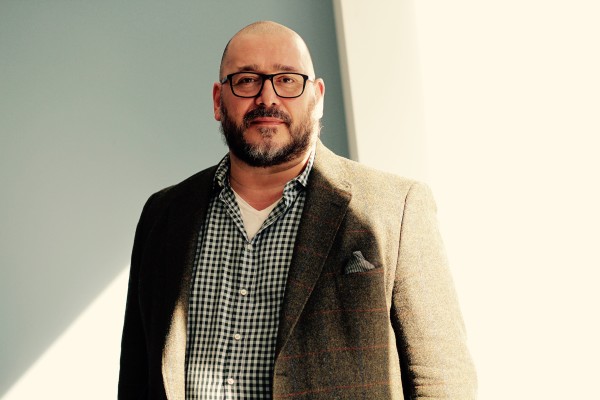 (Interview by Eric Alt, Editorial Content Director, Clio Awards. Original article can be found HERE)
Do not read into the fact that, almost immediately after Clio Health judging is completed this week, Graham Mills is retiring from the business.
"The judging process did not reaffirm my decision to retire," chuckles the global chief creative officer for Publicis Health who, in both looks and enthusiasm, doesn't seem like a man on the verge of walking away from the working world to a life of sedentary malaise. That's likely because he has no intention of curbing his intense creative drive, even in the face of retirement.
After 30-plus years that have seen him go from an art school student ("I left art school a writer, which gives you an idea of how good I am at art," he jokes) to copywriter to a creative advertising career traversing traditional advertising, digital, and most recently healthcare, Mills views retirement as less of an ending and more as the ultimate in creative freedom. But still…why walk away now?
"Because I could, I think, is the honest answer," admits Mills when The Muse sat down with him in the offices of Publicis Health in New York. "Actually, I've been thinking about it for a long time, and it goes back actually to 1992. My creative partner and I, Jaqueline Nolan, who is also my wife—she and I were working at a small agency that went broke…there was a big recession in London at that time…and we ended up doing anything we could to pay the rent. We were a youngish team and we just needed to pay the rent. So any opportunity that came up, regular freelance, we'd do that, and then other stuff as well. So we were working with Radio 4 helping them write things, we did an improv/radio writing course working with an improv troupe. I helped ghostwrite a book on railway architecture, a subject I knew nothing about beforehand, and now I'm surprisingly still knowledgeable! It found another passion for me. Jaq was also doing comic strips…and I think it was a really interesting time for us. Because up until then we'd been working at agencies, traditional advertising agencies, and we were advertising creatives. And during this period we kind of rediscovered ourselves just as creative people who could do lots of different things. So we did that for 3 or 4 years, and actually had a blast. We actually turned down a lot of jobs because we were enjoying ourselves so much."
So Mills and his wife-slash-creative partner will set sail for Ireland in the new year with plans on reconnecting with the free-wheeling creative energy they experienced as young freelancers…presumably with less monthly rent pressure. Mills admits "on the serious side" that some health scares played a factor in his decision as well. Although he insists they were nothing more than scares, he also admits "it wakes you up a little bit."
Then, of course, there are the bees.
"We're going back to explore that area a little bit more – what does it mean to be different types of creatives? We now have a nice house in Ireland with a studio attached and we're just going to play around with being creative," says Mills. "That kind of messiness is the stuff I really enjoy. The bit where you don't really know what you're going to do. There's lots of things I want to play around with. And I'm going to achieve some things I've always wanted to do, like…when I was a kid I always wanted to keep bees. So I'm gonna keep bees! As a kid we lived in the center of town so my mom was like, 'No. No we're not keeping bees.' So I'm going to do that now, too."
As we dive into Clio Health judging this week, we asked Mills if he's even had time to do the fond look back on his career and accomplishments. From building and leading agencies in the UK and U.S. including Ogilvy, Arc Worldwide, and Wunderman, to founding Digitas Health in 2007 to his most recent role with Publicis Health where, since 2015, he's overseen work for multiple agencies in their network including Publicis LifeBrands, Publicis Health Media, and Razorfish Health, he has a lot to consider.
"You know…I've really enjoyed it. It's been a really, really good time," he says. "It's been hard work, for sure, and I was saying to someone earlier that my career divides roughly into three sections – there's a kind of first 10 years of traditional consumer advertising in London, then there was roughly 10 years of doing integrated agencies and creating those as well, and then the last 10 years has been healthcare. Like everyone else, I just kind of drifted with the current of the business. And in health now, there are so many non-health agencies in the healthcare space which I think is interesting. It felt like a natural progression, I've just had a really good time. Each time I've had to kind of re-invent myself, rethink what 'good' looks like."
Throughout his career, Mills has navigated turning tides and shifting trends, and is eager to remind himself and his colleagues that that's exactly why they love his business in the first place. "When I started in digital with Ogilvy, that was really one of the most exciting times in my career. Because at that time there were no rules, you just made stuff up. That was a reinvigoration."
These themes crop up again and again during our conversation, Mills' fear of complacency, the ongoing efforts to keep boredom at bay, and the belief that constantly learning new things and relearning old things is the key to creative fulfilment. None of which sound like sentiments that should be coming out of the mouth of a soon-to-be-retired ad man.
"I'm proud of what I've achieved," he says. "Now I want to go and achieve something else. I hate going backwards."
After his experience in the wild west of early digital, Mills took on healthcare and found himself once again forced to read and react on the fly.
"So I agreed to be the creative director and they took me first to a J&J meeting. And I thought, 'OK, Johnson & Johnson, that's pretty safe'," says Mills, shaking his head at the memory. "And I didn't know there was a hardcore kind of pharma piece to it, so they introduce me, 'This is Graham, new creative director for New York, he's amazing…' And I was like, 'Wow, thank you for the great introduction…' and they proceed to drop into this conversation and I was like, I don't understand any of this. And it was terrifying. That paranoia you have being in a meeting thinking I have nothing worthwhile to say…I've got to say something…you just introduced me as a genius!"
Having since settled in, Mills has gotten more philosophical about the industry he had to learn about on the fly. "I've had a phrase in my head which is really a horrible phrase and I haven't bothered to rethink it, but I call it health experience transformation," he says. "That, for me, is about what we're doing – we're not just advertising a drug or a service or a piece of equipment or whatever, what we are doing is transforming how people experience health. And I think that's how it shifted as a business. It's changed from advertising stuff to connecting with people and helping people do better things. Make better health decisions."
As he walks into the jury room for Clio Health, Mills–and the industry he's worked with for 18 years–in both find themselves staring down a potentially uncertain future. "I feel it's at a little bit of a crossroads, and for me there's a sense of old fashioned pharma having its last day," he says. "I think the time of traditional advertising and thinking about the gag is over. And I think it's an extraordinary time. And it's going to continue to change." Asked whether impending retirement will affect his jury decision making, Mills bursts into a full-throated laugh. "Am I going to be a supreme asshole? Be this hardass? 'No one gets a gold! No silvers! No bronzes!' But seriously, it's actually making me look harder at the stuff and really looking at what people wanted to do and try and see that. I guess I'm getting kinder in my old age…I'm just really looking for that root of a great idea. But I want everything to be great and I want the business to do well."
Even on this final note, Mills doesn't sound all the convincingly like a man ready to put it all behind him. When pressed if he feels retirement will actually take, he considers the idea and then nods definitively.
"I think it's gonna stick, yeah," he says. "A colleague said to me, 'You know, it's really inspirational that you're retiring. Because I thought the only option was to die at your desk!'