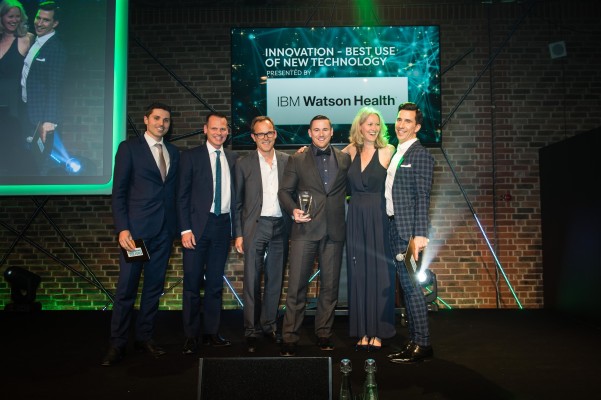 The Hive Group were delighted to be recognised with 4 awards at the PM Society Digital Awards, picking up 3 Golds and 1 Silver.
The night turned into a stellar evening for all of the Hive Group agencies, with Hive, ebee and Pollen all being recognised for their great work.
Hive Health US, in partnership with Fundamental VR and agency client Pacira, who made the trip all the way from the US of A for the awards, scooped 2 Golds for the Virtual Reality Simulation Training Experience for surgeons.
Recognised for its Effectiveness, the judges said it delivered "a clear demonstration of clinical outcomes that benefited the industry, with the innovative use of virtual reality"
And so, it was no surprise that it also captured the imagination of the judges in the Innovation category too, giving Hive their second Gold of the night.
"What really stood out for us was the virtual reality immersive experience combined with this tactile haptic technology which really helped educate surgeons in a notoriously difficult technique, in a really quite repeatable module"
Having barely returned to their seats, the Hive Group were awarded Gold for another Effectiveness award, this time in the Congress, meetings and events category, for ebee's work with the GSK Respiratory Medical Team for ERS 2016.
The judges said "We felt that they did a brilliant job of really using the digital elements to really engage the audience. Everything had a purpose and it was great to see they really nailed their objectives and had the analytics to back that up"
And, last, but not least, the night was topped off for the Hive Group when they picked up a Silver Craft Award for Pollen's mode of action animation for Janssen's Zytiga.
"We adopted a fresh approach to the usual scientific mode of action animation, using metaphor to make the complex simple whilst bringing the key differentiation of the brand to life for urologists treating patients with metastatic castrate-resistant prostate cancer" said James Hardwick, Associate Creative Director.

Jas Hummel, Director of Hive Group said "Whilst a lucky few of us got to celebrate this great achievement on the night, the real credit and congratulations go to everyone at the agency, on the client side and our execution partners, who worked their socks off to conceive, develop and deliver such great work"