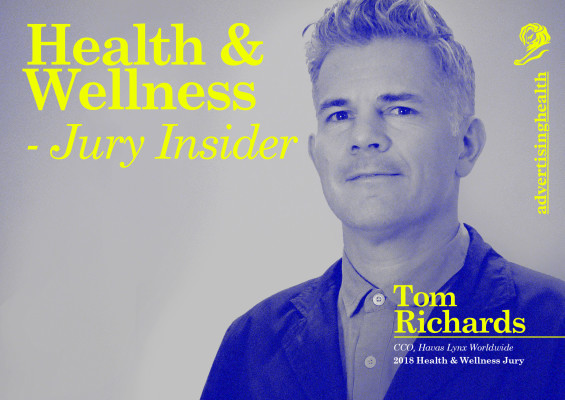 This week we've been chatting to a few Cannes Lions jury members.
We caught up with Tom Richards, Chief Creative Officer of Havas Lynx Worldwide, before he headed to the South of France to serve on the Health & Wellness jury:
Finish this sentence: Creativity in Healthcare advertising is… well, as Bob Dylan put it, the times they are a-changin'. Audience desires, client needs and communication channels are changing. Creativity must too.
What do you see as the next big trend in Health & Wellness? 
Work that works, ideas that have direct human results. Impact that isn't measured on engagements or impressions but has real tangible results. Work that can save lives, change laws and behaviour or, make a considerable difference to those affected will start to dominate.
You're no stranger to a darkened jury room, but what are you looking forward to about the Cannes Lions judging experience?
As a junior creative, it was about being a sponge, soaking up as much great creative work and inspiration as possible. Being a judge at this year's festival will literally plonk me in the middle of an ocean of creativity. The volume of work I'm going to absorb will be mind-blowing.
What, to you, defines a successful creative idea?
For me, a successful creative idea is defined by a simple human truth and has an insight at its heart. Importantly, it has to solve a problem and stop you in your tracks, it makes you take notice. The best ideas aren't the ones that are driven by the look and feel, trendy art direction or a huge budget. They are simple ideas that you can easily share with a friend over a coffee or chilled glass of rosé and they instantly get it.
How do you spot Lion-winning work? 
I have seen so much work in the last couple of weeks. Some of it passes you by without any impact, but some of it actually makes you feel something, that's the first sign of a Lion for me. My other technique is to check my heart rate monitor:
60 bpm – no chance.
80 bpm shortlist.
120 bpm contender!
Originality is also key. I don't want to see an idea that's been repurposed. I also don't want to see an idea that's a first for Health & Wellness that might have been done years ago for a consumer campaign. It has to be fresh and unique. A true first.
What do you think your jury will be looking for this year?
The Cannes Lions Health mantra is life-saving creativity and I think this is exactly what the Health & Wellness jury will be looking out for. Work that has an impact in the world, whether it's improving lives or changing behaviour, something that hits you in the heart and stops it. But then restarts it way better than any defibrillator.
It goes without saying originality is king. And dare I say a great use of emotional intelligence not artificial intelligence.
Is Havas Lynx working on anything exciting at the moment?
Where to start… we are going through an excellent period of growth which is testament to our talented people, clients and work. Our campaigns span a breadth of therapy areas, and we produce everything from branded, unmet need, disease awareness and patient activation pieces.
We're extremely proud to see our campaign for ViiV healthcare 'Change the Face' at #7 in the Ad Health's Top 10 campaigns, sitting alongside some of the best global work from the last 12 months, the next phase will see some great work that is on a whole different level.
We have gained the trust of our clients and are now developing the next phase of some of our most successful campaigns like 'The World vs. MS' which is really exciting. 'Speed Donating Singles' has also just launched, which is making some much needed noise for organ donation. You can find out more about that here:
>www.speeddonatingsingles.com
And we've got a great patient activation campaign coming for a migraine treatment that I can't tell you about, oh I just did.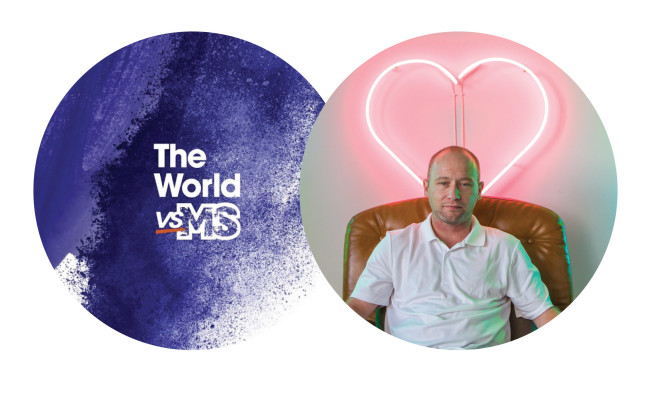 What's the best piece of advice you've ever received?
Never, ever change your mind, but then again, was that the best bit of advice? I don't know, maybe it wasn't, or was it…
Any tips for creatives in Healthcare?
Be creatively ignorant.

Every brief is an opportunity. 

Don't listen to advice, listen to your gut. 

Surround yourself with the best creative talent.

Do what you've been asked to do, then create what you believe in. Clients will come around to your thinking.