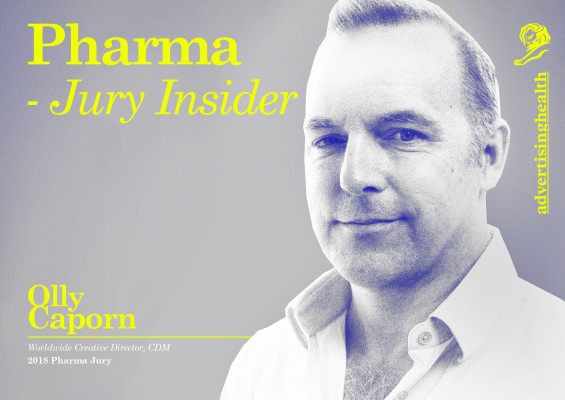 We spoke to Olly Caporn, Worldwide Creative Director of CDM, before he made his way to Cannes to serve on the Pharma jury:
Finish this sentence: Creativity in Pharma advertising is… improving every year.
What do you see as the next big trend in Pharma?
I think the experiential ideas that now dominate the creative consumer world are the next opportunity for Pharma. There is some evidence
of it in pro bono work but I think if pharma brands can navigate the regulations the possibilities are endless.
You've judged at a few international advertising award shows, what do you think will make the Cannes experience different?
Each show has its own flavour and points of difference that make them special. I think the sheer volume and depth and breadth of entries will be exciting to see as Cannes is at a point in the year when a lot of new work is entered for the first time. So jurors wont be familiar with much of the work already, which means we get to set a bar for the other shows and find the gems before anyone else does.
What, to you, defines a successful creative idea? 
I remember the first time I realised what a good idea was. It was at art school (many years ago) when the spec brief was to create a logo for Adolf Hitler's house painting business. One logo was simply a diagonal brush of black paint (resembling his side parting/fringe) and the bristles of the paintbrush were vertically beneath it, forming the small moustache. I remember feeling so impressed in the simplicity of communication and yet utter genius of it and a touch of envy too. I still think triggering those feelings are what I look for.
How do you spot Lion-winning work?
I suspect there may have been a lot of anxiety on past juries to find work worthy of some kind of legendary, mythical status because it's well…Cannes. Yet work that could have won in Pharma/Wellness has won when entered in the 'main' show without too much hand wringing and gnashing of teeth. So I will just be looking for excellence in craft obviously but also ideas that just move me or are just really bloody, bloody clever.
What do you think the jury will be looking for this year? 
I think it's more about what we aren't looking for. And that means the echoes of last year's work. No 3D humans in art galleries or ethnic bracelets or VR vaccination ideas. That said, what I am hoping for is some strong branded work, the kind of work that represents what we do every day, done to an amazing standard. That would be nice to see.
What's the best healthcare campaign you've seen this year? Barring your own agencies work of course.
The thing about healthcare is that it is so hard to keep abreast of new work as it's all so targeted and behind closed doors until you see it in the flesh. Also, if I called out something at this point it might be a bit inappropriate in terms of judging.
Have you got any exciting campaigns you've worked on at CDM that our readers should keep an eye out for?
CDM New York have created a wonderful event for rare disease awareness (NORD). It centres around a boy called Peyton Madden who has a rare allergy to light called Xeroderma Pigmentosum (XP) which means he can't go out in the day without looking like a firefighter, but he can go out at night. I won't tell you the idea here, but what they did will blow you away. Check out the film which is called 'Good Morning Peyton'. I can boast about this because I'm not allowed to vote on it!
What's the best piece of advice you've ever received?
I have three:
Your career is a marathon not a sprint.
Don't worry about anyone else's career – it has no bearing on yours. 
Keep putting yourself out of your comfort zone.
Any tips for creatives in Pharma?
In no particular order:

Be ambitious creatively.

Think bigger. 

Don't settle.

Aim to be the best in the world not just Pharma.

Be a student of advertising.

Read my blog > www.ollycaporn.com