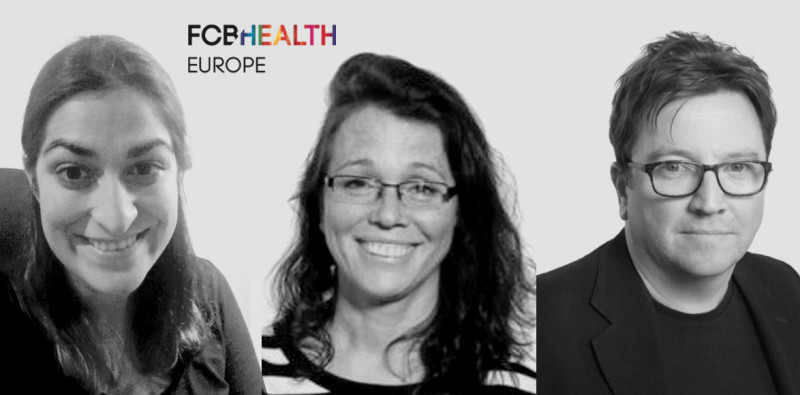 Strategic Planning Director, Strategy Director, Group Account Director Join the Network's Growing Team
FCB Health Europe President Joerg Hempelmann announced the appointment of Michael Le Brocq as European strategic planning director, Izzy Huzzey as strategy director and Fiona Cheetham as group account director. These dynamic new hires further advance Hempelmann's growing team, building on the momentum of FCB Health Network's recent expansion in Europe.
Michael Le Brocq joins the Network as strategic planning director from McCann Health London, where he served as chief strategy officer. He brings 23 years of experience in healthcare communications to Hempelmann's lineup.
"I am so incredibly pleased that Michael is joining FCB Health Europe and will oversee strategy and planning across the region. With his vast experience on both the agency and client sides, he's developed an expertise that extends across all major healthcare categories," said Hempelmann. "This robust understanding of the business challenges of our clients will upscale our offering massively. Michael also has the clear objective to further build out our team with fantastic talent like Izzy and Fiona. Our ultimate goal is to have talent sitting in every key European market by the beginning of next year."
Izzy Huzzey, who most recently served as communications lead at UCB, joins FCB Health Europe as strategy director. With her degree in Immunology, Huzzey has 12 years of healthcare experience built upon a strong science foundation. She started her career at TBWA and worked at both Langland and Saatchi & Saatchi Wellness before moving to Shanghai, where she worked with both Publicis and McCann Health across China and the Asia-Pacific region. From there, Izzy moved to UCB Biopharma in Belgium, where she worked initially as European brand lead for CIMZIA, before taking on a role in the UK as head of country communications.
Group account director Fiona Cheetham, who previously served in the same role at Cello Health Cypher, brings more than 20 years of experience in healthcare communications to the team. With her extensive background in the healthcare field, including sales, medical education, public relations and brand communications, Cheetham brings an unparalleled understanding of the customer journey to the FCB Health Europe team.
The new hires follow a remarkable year of growth for the global FCB Health Network, which announced a variety of new offerings, including FCB Health Frankfurt, FCB Health Amsterdam, FCB Health Zurich, FCB Health Brasil, Studio Rx Productions, AREA 23 ON HUDSON and BX – Brand Experience Design Group. The award-winning Network was also named "Healthcare Network of the Year" for the first time ever at the 2018 Cannes Lions Festival for Creativity.