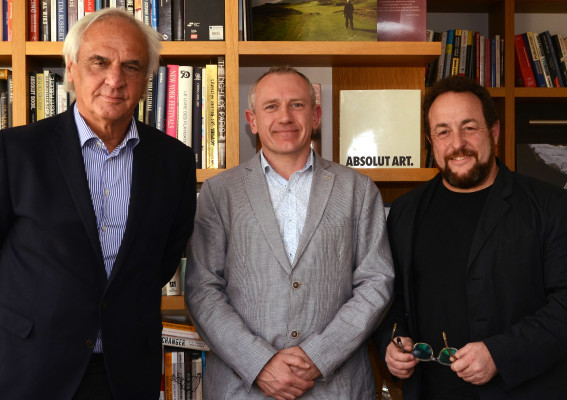 Jean-Marie Dru welcomes the return of Andy Hayley and Dick Dunford and their vision for TBWA\WorldHealth London
Jean-Marie Dru, Chairman, TBWA\Worldwide, Sharon Callahan, CEO TBWA\WorldHealth, and Robin Shapiro, Global President, TBWA\WorldHealth, today unveiled a new vision for TBWA\WorldHealth London.
The inspired new vision begins with the appointment of Andy Hayley as Managing Partner and Dick Dunford as Executive Creative Director at the creative helm of TBWA\WorldHealth London. With the mission of creating a destination company through Disruption®, the agency is poised to partner with the world's most ambitious healthcare brands and create a destination business for clients, talent and the collective.
"We are delighted Dick and Andy chose to return to TBWA\WorldHealth," said Dru. "They see the changes happening in the health sector as a massive opportunity to use Disruption® innovatively and in ways that will have real impact on clients' business in marketing and beyond."
"Having Dick and Andy on board is not only a major coup, it is the rekindling of a very long friendship. They are the next piece of the stellar team we are creating across the world. We're thrilled to have such fierce collaborators and natural disruptors leading our European offer," added Shapiro. 
"The lure of Disruption® and its proven ability to truly impact lives through the world's leading brands is too big an opportunity to miss," said Dunford. "We're on a mission to create a dynamic practice with Disruption ingrained through everything we do, leading to bold work for bold clients."
"Clients have more choice, more channels and more audience interactions to engage with than ever before," said Hayley. "My mission is to demonstrate that Disruption® can provide client organisations with ideas that address these challenges at a brand, marketing, and business level."
Globally recognized talent with diverse backgrounds encompassing both healthcare and consumer advertising, Dunford and Hayley bring a wealth of creative and strategic expertise to the London hub's leadership team. They will work in close partnership with other senior leaders creating a stronger, nimbler global network.
Hayley and Dunford recently met with Dru at TBWA\Worldwide Paris to discuss the London agency's vision and the expanse of opportunities within the healthcare space. "A healthcare brand is not like a consumer brand – they need a focus on access and promotion, not the more abstract aspects of brand value building. Disruption in healthcare needs to concentrate on the tangible aspects of a client's business," added Dru. "When we met, we felt this is what the market needs, and we are now working on a project that will highlight 15 ways we believe the healthcare sector can evolve through Disruption."
"With health making up such a big percentage of leading clients, it is vital that we have global leaders in place to ensure client needs are met with agency expertise," said Callahan. "In Andy and Dick, we have proven talent in leading big complicated global assignments and finding bold and distinctive ways to help clients have a competitive advantage. With them on the global leadership team, we can now offer a greater range of global client capabilities," added Callahan.
Dunford's career spans over 25 years working at iconic advertising agencies including CDP and BBH, the global ad networks of McCann, Bates and BBDO, and ECD roles at the integrated agency Tequila and pure play digital agency.com. During his previous stint with TBWA, Dunford transitioned from leading Nissan, Canon, and British Airways moving into the health space to work specifically with Andy Hayley.
Hayley began his 23-year healthcare centric career in sales and then marketing for MSD (Merck Inc) in the UK. After joining TBWA\WorldHealth London (then Paling Walters,) he served first as a junior account executive and then worked his way through the ranks eventually leading the agency. During that time, Hayley worked centrally within Omnicom to bring home and deliver the Pfizer consolidation assignment.
Previously Hayley and Dunford served together as Managing Director and Executive Creative Director at TBWA\Paling Walters London. Prior to joining TBWA\WorldHealth London, with their extensive understanding of the healthcare and wellness space, Hayley and Dunford built Loooped, a strategic and creative consultancy.
"For me, only Disruption could entice me away from our consultancy," said Dunford. "The combination of senior sponsorship, a global focus and the desire to use Disruption innovatively in health was too good an opportunity to miss."
"One thing we learned as consultants is that collaboration makes for way better ideas," said Hayley. "Disruption can play a vital role for progressive clients wanting differentiating thinking and a unifying idea that streamlines and inspires better collaboration across all the silos."