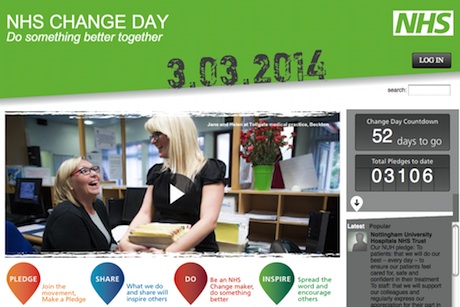 Social engagement and comms agency The Social Kinetic has been called in to promote NHS Change Day, which aims to be the biggest global social movement in health.
Starting with a tweet between two doctors calling for action last year, the first NHS Change Day in March 2013 resulted in 189,000 pledges from NHS staff and communities to improve patient care and experience.
The agency has been briefed to generate awareness and encourage pledges for the second Change Day, which takes place on 3 March. Activity will include media relations, social media and stakeholder and partnership engagement to evolve the grassroots initiative into a national call to action.
Front line health workers and the public will be invited to pledge and share any action which creates positive healthcare change on an online Pledge Wall.
The team will also work with the NHS Improving Quality Team, with an aim to deliver its ambition of 500,000 pledges, as well as Joe McCrea social media lead for NHS Change Day.
The work is being carried out largely on a pro bono basis.
Claire Cater, founder and MD at The Social Kinetic, said: "We're excited and passionate about helping NHS Change Day grow and show the potential for staff to create a real and lasting difference to the NHS. Every year we commit to supporting at least one project – where we believe we can add value and create real social return.
"After more than 20 years of working with the NHS and seeing its potential – I wanted us to do this and be part of something we think has the potential to be ground breaking. This is about partnership, making sure we play our part in creating the environment for the emerging leaders and staff at the grass roots to make a difference. If others out there want to get involved – they should call us."
"The Day is also an opportunity for marketing and PR teams to think about how they or their clients can get behind the action – whether it's encouraging people to give blood or keep their hospital appointments, there are hundreds of things they could do. Whatever real change big or small, it all adds up to help create the world's biggest ever collective healthcare movement."
Source : http://gorkana.com/news/consumer/pitch-wins/the-social-kinetic-promotes-nhs-change-day