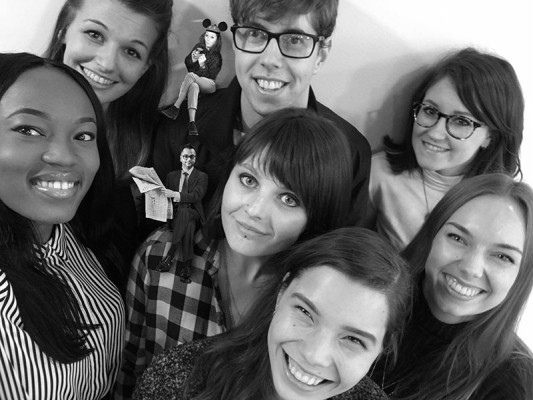 Following a hugely successful inaugural year, Publicis Healthcare has welcomed two new recruits to its unique multi-agency internship programme, The Lab: A Place for Bright Sparks.
The Lab, which is the first of its kind in the health and wellness space, is designed to attract people from unconventional backgrounds to the healthcare agency world. Anyone over the age of 18 can apply and the judges assess candidates on talent and passion rather than formal qualifications. CVs are not important in The Lab. Publicis Healthcare partners with organisations including The Ideas Foundation and Not Going to Uni to promote the scheme.
This year's Bright Sparks, Zoe Bishop and Xandria Carelse-Dutlow, were selected from a pool of over 300 applicants following a gruelling assessment day in September.
"We wanted to attract brilliant people to The Lab, no matter who they were or where they came from," said Shaheed Peera, PLB Executive Creative Director EU. "We weren't interested in grades or degrees. We looked for raw talent and a real desire to make a difference. That's all. The quality of this year's candidates was exceptional, but Zoe and Xandria stood out. It's now our job to support them, nurture their talent and drive their ambition."
Over the next six months Zoe and Xandria will work across the four agencies that make up Publicis Healthcare in the UK (Publicis LifeBrands Resolute, Real Science, Saatchi & Saatchi Health and Digitas Health LifeBrands). If their placements are successful, the Bright Sparks will be offered full-time positions.
Jonathan Webb, one of last year's Bright Sparks, is now a Junior Art Director at Publicis LifeBrands. For him, The Lab was invaluable. "It's a real struggle to get your foot in the door of the ad industry, but Publicis Healthcare has the door, and their arms, wide open!" he said. "The Lab was amazing from start to finish. The work was always interesting and challenging, and the people I worked with couldn't have been nicer or more talented. It was the perfect start to my career."
As well as finding their Bright Sparks, the Publicis Healthcare agencies also discovered talented people for permanent roles during The Lab assessment days. After impressing the judges last year, Rosie Mossey joined Publicis LifeBrands as a Junior Designer and Kate Craggs joined Saatchi & Saatchi Health as a Junior Medical Writer. This year, Joanna Dorling and Sofia Beccarelli have been welcomed by the Publicis LifeBrands team as Account Executives and Antoinette Ale has been hired by Real Science as a Junior Account Executive.
The Lab serves a dual purpose. It identifies and nurtures talented people who may otherwise be locked out of the industry. And, crucially, it brings new perspectives and fresh, unrestrained thinking to the healthcare arena.
"As an industry, we need a diverse range of talent to stay relevant," said Shaheed. "Without embracing diversity, our work becomes stale and inauthentic. Through The Lab, we have found a previously untapped pool of talented people. By inspiring people like Zoe and Xandria today, we can build an exciting creative future."