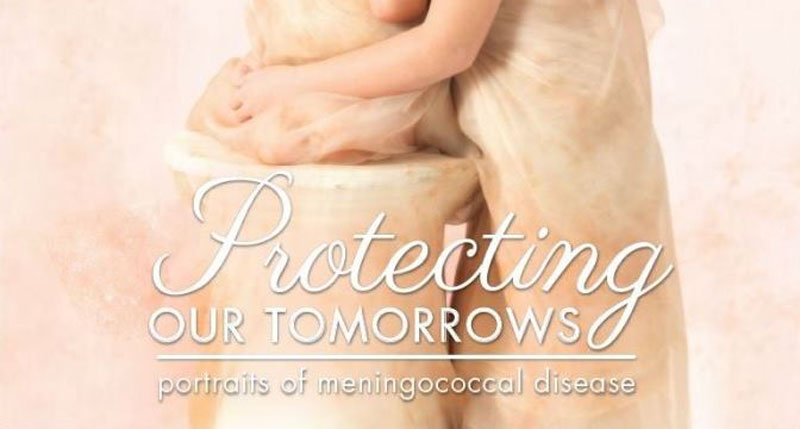 Novartis, in partnership with world-renowned photographer Anne Geddes, the Confederation of Meningitis Organisations (CoMO) and charities around the world, has announced the publication of an eBook featuring inspirational images of meningococcal disease survivors from across the globe who have participated in the Protecting Our Tomorrows: Portraits of Meningococcal Diseasecampaign. This project aims to raise public awareness of a rare but potentially deadly disease and the importance of vaccination in helping to prevent the disease. The eBook is available for free download exclusively on iBooks® tomorrow, in honor of the sixth annual World Meningitis Day, at the following link: bit.ly/1oEZumh.
"Through a series of what I believe are inspirational photographs of meningococcal disease survivors and families impacted by the disease, this project celebrates the survivors' triumphs and honors those who've tragically lost their lives," said Ms. Geddes. "Over my 30-year career, there is not one parent I have worked with who doesn't love their children, want to nurture their children and protect their children. Through these images, I hope parents feel empowered to understand the disease's impact and know the options available to them."
"Through decades of research, Novartis has developed vaccines which helped to significantly reduce the incidence of some of the most common and serious strains of meningococcal disease across the world," said Andrin Oswald, Division Head, Novartis Vaccines. "Much more can and should be done to make sure every child at risk gets vaccinated. This is the mission of our company. A mission that we try to fulfill to the best of our abilities and as responsibly as we can, working together with the many patient groups, physicians and public health officials who are as determined as we are."
Meningococcal disease is a sudden, aggressive and life-threatening disease, with infants and adolescents at the greatest risk[3],[2]. Five main groups of meningococcal bacteria (A, B, C, W135 and Y) cause virtually all cases of the disease around the world, with serogroup B being the greatest cause in the developed world[4],[5]. Novartis is a leader in developing innovative vaccines, and is the only company with licensed vaccines for all five serogroups including B.
The eBook is the culmination of a worldwide project launched in 2013, aiming to raise awareness of this rare but aggressive disease that can leave its victims with life-long complications, such as brain damage, learning disabilities, hearing loss and limb loss[3],[6]. Ms. Geddes traveled the world to meet the 15 project participants from eight countries (Australia, Canada, Brazil, Germany, Ireland, Spain, the United Kingdom and the United States) and to depict their resilience through their portraits. As global project ambassador, Ms. Geddes has also worked to foster awareness and encourage meningococcal disease education through meetings with journalists, patient advocacy organizations and public officials. Throughout her journey, she also chronicled her experiences on the campaign's Tumblr page (http://protectingourtomorrows.tumblr.com).