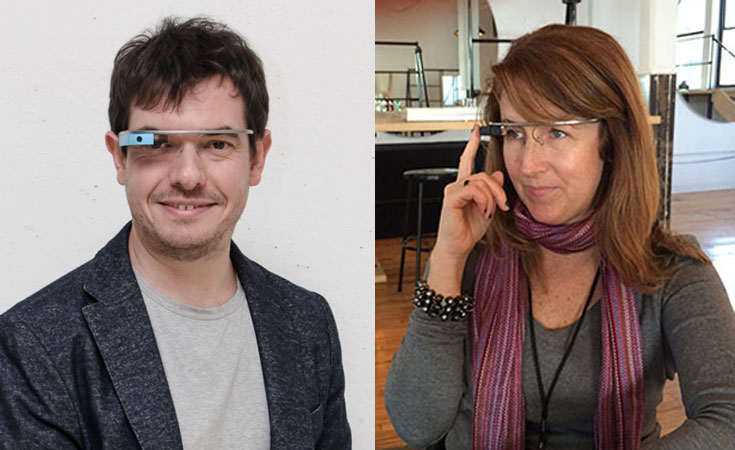 It certainly has been an interesting 7 weeks with Google Glass. I found that the initial novelty and excitement over the gadget did wear off over the span of the experiment, uprooted by a mixture of frustration over personal usage difficulties and an uncomfortable level of public awareness and apprehension. Public perception aside, I'm not hooked yet, but do remain intrigued.
While the tool honestly did not radically change my life in any way, I saw how it could potentially improve the lives of others. I remain aspirational about the tools usage in the healthcare space, especially as Glass continues to be modified in the years to come. Here are my final thoughts about Glass, both good and bad.
The Good:
Navigation: The Google Maps app was the first feature I mastered, and the only one I used throughout the duration of my 7-week trial period. The turn-by-turn directions were especially helpful getting around new areas, and were a navigational lifesaver during the chaos that is Austin during South-By-Southwest.
Recipes: I also became a fan of the hands-free recipe apps like KitchMe, which provides step-by-step directions while you're cooking. This feature really gave me a thorough understanding how useful the hands-free features can be. While my life today doesn't contain too many situations where hands-free access is pivotal, I would have been immensely grateful for the tool just a few years ago, when my kids were babies. So, on that note, I'd like to share a few areas where I believe Glass would excel:

Moms: For young moms with babies in their arms, the hands-free aspect of Glass could be a wonderful addition. Apps could be developed to read words of lullabies to help you put kids to sleep, or allow time-strapped new parents the ability to read email or listen to the news while breast feeding, etc. Also, as all new moms know, there is a constant desire for more information as you move through the stages of parenthood.
Physicians & HCP's: it has been well documented about all the potential uses for Glass within the healthcare space. Many digital hubs (RHW included) have been busily expanding Glass health apps to assist in the areas of first-hand education (check out this surgeons account of a Glass-monitored live surgery – such a great evolution to aid surgeons in training) remote consultations (this video gives an excellent overview of Glass aiding nurses with a variety of duties in the hospital setting) remote guidance through complicated situations (these Glass checklists are a good example of how step-by-step directions can be optimized for medical tools).
Pharmacists: I also see the potential for Glass to provide exemplary service by being able to recognize patrons, look up drug/drug interactions, count pills ect. At a time when pharmacists are becoming more critical players within the overall healthcare landscape, anyway to help them improve the service they provide will be necessary over the next few years of healthcare transition.
Researchers: I can see a lot of benefit to potentially using Glass to record feedback from qualitative research sessions, in areas of IDI's and the like. The tool would allow the interviewer the ability to interact naturally with the interviewee, and capture them potentially in their day to day lives, in a way that would be disruptive with cameras following. I think this would be an interesting area to explore.
Documentary filmmakers: Similarly, capturing video inconspicuously can also be achieved with Glass. There are several filmmakers that are currently exploring in this area.
Field workers: I can see Glass being beneficial to field or machinery workers, where hand's free is truly beneficial. It would allow them to search manuals or receive weather updates without interrupting what they are doing in the field.
High-end customer service: Glass is already starting to show successes in the area of high-end retail operations, like Virgin Atlantic airlines, which is utilizing the headwear to aid in the customer check-in process and provide easy-access to the latest flight information and updates. Providing personalized service to your most valued customers can be achieved by leveraging facial recognition software and records on that customers' preferences.
The Bad:
Battery Life: Wearing Glass, I felt like I had to continuously "ABC" (always be charging). I was told that the tool would last all day, but in reality the apps drain the battery life to underwhelm my expectations. I constantly found myself plugging in, when I could have been looking things up and feel that I missed out on opportunities where Glass may have come in handy.
Conspicuous Consumption: There is nothing inconspicuous about walking around with a pair of Google Glasses on. The constant gawking got pretty frustrating, and you'd inevitably need to engage in discussions with strangers, welcome or not. So, often times I'd just avoid wearing them. I found that wearing them beneath a baseball cap helped obsure them and also actually improved the screen usability by making it much more readable in front of the dark background.
Mass Audience: I'm doubtful that Glass, as it currently stands, will become a mass consumer product, and not only because of the high $1.5K price point. From a UX perspective, I found the Glass interface confusing. The integration with Google+ was not so seamless and providing some sort of printed user guide would be highly recommended.
The Future:
All in all I enjoyed my time with Glass and I look forward to continuing to brainstorm ways to help our clients leverage this new technology to grow their brands/businesses.
Kristin Milburn
Kristin is a strategic and innovative thinker, who has held leadership roles in strategy/planning and client engagement over the past decade. Digitally focused, Kristin is always looking around the corner to see what's next and how we can apply smart strategic thinking to new innovative solutions for our clients to help them build their business.
Roberto Ascione
Roberto started out as a digital entrepreneur, pioneering the development of digital technologies in healthcare. He brings to PHCG more than 16 years of experience in health-related consulting, media, and communications as he sees from a human-digital perspective. Today Roberto serves as the President of Razorfish Healthware. In his role, he enjoys the mash-up of different cultures along the way.