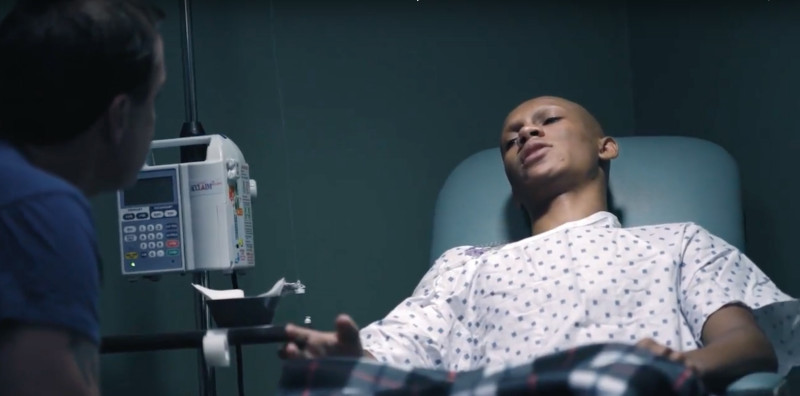 What if family members treated cancer patients the same way they view people struggling with drug or alcohol addiction?
That's the premise of a new campaign, "Stop the Shame," from Kansas City-based alcohol and drug prevention and recovery organization First Call. VML worked with the nonprofit to create a series of powerful ads comparing addiction to different diseases, with one focused on cancer and another on Parkinson's.
So why opt for such an intense way to get the message across?
"Frankly, it's because people are dying and have been dying for a long time," Susan Whitmore, president and CEO of First Call, said. "People die behind shame all the time and in the last 15 years there's been substantial research about the fact that substance abuse disorders are brain disorders and that drugs and alcohol change people's brain chemistry in a way that contributes to the fact that it's a chronic and progressive disease that needs to be treated."
The hope is, whether good or bad, the ads will spark discussions about addiction. People may disagree with the method used in the ads, but First Call really hopes to help people struggling with addiction and their families feel less shame for something they can't always control.
"There are still a lot of people out there who feel that addiction is a moral failing, a choice, and I'm not saying that addicts don't have a part in it. It's like any disease: first and foremost it's genetic," John Godsey, North America CCO at VML, said.
VML and First Call noted that the idea for the campaign, to compare addiction with cancer, came from information reported in the Surgeon General's report on alcohol, drugs and health. The report found substantial scientific evidence that "addiction to alcohol or drugs is a chronic brain disease that has potential for recurrence and recovery."
The campaign also had a very personal component to it for many team members at VML, including Godsey. "It's very much a passion project for me because I have been sober for 12 years and I've had a lot of people in my family die from addiction," Godsey said. "I've said pretty much all the lines in these spots and I've had them said to me."
Alongside the two ads, VML also created a website for First Call and the "Stop the Shame" campaign aimed at educating people about addiction. When users visits the website they are prompted to answer a question: Is addiction a disease or is it a choice? Depending on the answer, the website provides the user with information about addiction and why it is really considered a disease, not a choice.
Original article can be read HERE