The Global Awards℠  Young Globals Student Competition & Internship program has announced the 2016 competition Finalists.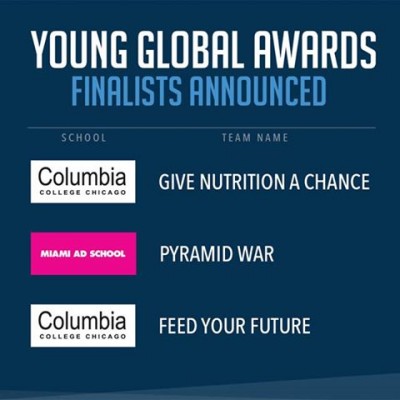 Launched in 2014 to identify and recognize emerging creative talent from around the world, Young Globals introduces students to the rewards of working in the healthcare and wellness advertising industry. The Young Globals is the only college/portfolio school competition for healthcare advertising that offers students an opportunity to submit their creative work, the chance to earn a prestigious Global Award, and the experience of test driving their career in healthcare advertising.
The 2016 Young Globals Finalist Teams:
Feed Your Future: Columbia College Chicago, USA
Erica Barringer: Art Direction 
Cassie Benedict: Copywriter
Eric Kahl: Concept / Strategy
Give Nutrition A Chance: Columbia College Chicago, USA
Erica Barringer: Art Director & Designer
Tim Brutsman: Art Director
Patrick Herron: Copywriter & Strategy
Brandon Scavone: Copywriter
Marisa Persico: Public Relations
Pyramid War: Miami Ad School, USA
Marcelo Shalders: Art Director & Designer
Nellie Santee: Copywriter
Karol Gomez: Designer
Students were inspired by this year's challenge brief and submitted their ideas for a compelling campaign for a (fictional) leading maker of diabetes medications to raise awareness about the link between unhealthy food choices, childhood obesity and type 2 diabetes.
Finalists were selected by the 2016 corporate agency sponsors greyhealth group and Havas Health & You. Gary Scheiner, EVP, Chief Creative Officer of greyhealth group and Beth Sabbatini EVP, Executive Creative Director of H4B Chelsea evaluated entries with their agency teams to determine the student submissions achieving Finalist status.
Ms. Sabbatini had this to say about the caliber of this year's student entries, "The work we saw in this year's competition was really inspiring. It was great to see how the teams arrived at an insight and then brought it to life through a variety of engaging tactics including gamification, apps, and celebrity influencers."

"I was really pleased to see the tremendous breadth and depth of thinking these students applied to this brief. No two ideas were even remotely similar," said Mr. Scheiner. "For me, the ideas that rose to the top were the ones where the teams applied strategic thinking and real insights that drove their creative decisions. They presented rational arguments to make their case. The best ideas were original, highly creative, and on brief. I'm optimistic about the future of healthcare marketing."
Finalist teams will be interviewed by the Global Awards Young Globals sponsoring agencies to determine the 2016 Young Globals award-winner.
The Young Globals award winners will receive a Global Award, have their work showcased at the 2017 Global Awards ceremony, and be given the opportunity to experience a paid internship (minimum of one month), based on their availability, at the sponsoring healthcare advertising agencies.
The 2016 Young Globals winners will be announced in the coming weeks. To learn more about the Young Globals competition please visit: here.