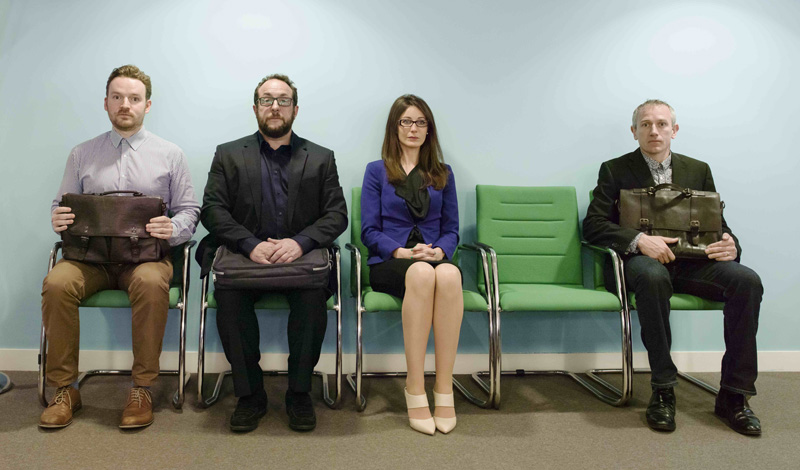 In the search for new people, Loooped are offering candidates the chance to interview them.  We spoke to Dick and Andy from Loooped to find out what it's all about.
AH: So Loooped, you're looking for your next Looopers.
That's right. We're at a stage where we can bring more creative thinkers into the fold. So the idea of interviewing is something we've been wrestling with here lately. We feel we've created an environment in Loooped that is free for people to think and act with imagination; to propose and create. So we want to put a different spin on interviews, to live up to those ideals.
AH: And you're looking for people to interview you?
Exactly.
We think we've all been involved in the following, traditional type of interview: Thanks for coming all this way. Let's start with this question, because it is at the top of my list. And here's the next, can you give us an example of, or time when, blah, blah, blah …here's some more questions. And one final one. We'll then shake hands, you go off, and the rest of us will discuss whether you passed.
Surely there's a better way for people to find an environment where they can creatively flourish? A more imaginative way? We feel there is: how about 'the applicant' interviews 'the employer'? How about we flip the whole thing around and upset the established order, so that we find attitudes that match. By approaching things like this, we'll find people that have similar values – able to ask insightful questions, feel confident to discover what matters most.
We're a close-knit bunch, who are very serious about creative strategy and ideas in health and wellness. Even though we've no intention of becoming a 'bums on seats business', we now need more brains in the game.  We will only ever be as good as the people who work with us. But we have to live up to their expectation – so we've decided to offer people the opportunity to interview us. This way the very best can decide if we're worth working with.
AH: That sounds like quite a challenge.
All the pressure is on us. We have to set your newspaper alight.
We want creative thinkers to ask us about what we do; why we exist; where we're going and decide if their ambitions can be fulfilled with us.
People can probe, prod and tickle (kind of). Loooped will ask you questions too, of course.
But the key here is that Loooped is open. It's a bunch of people solving business challenges by being free to think, free to challenge, free to be you at your best. So anyone joining us should feel that way from the first handshake, high-five, hug or shrug.
AH: What kind of person are you hoping to attract?
The frustrated. The challenger. The peg that hasn't found the right hole – and probably never will.
Perhaps you're the strategist that has wept at the creative output that failed to live up to the brilliance of your insight.
Perhaps you're the writer that thinks the strategy is just fine, but only that: just fine.
You want to be somewhere where you drive exceptional thinking, not just execution, and have a seat at the table right from the beginning. To create change. Or perhaps you're the account handler that loves the idea of not being defined by a title, where your voice is as valued as the rest and you can flex the muscle you know you have. If you're any of them you could be one of us. This article on our website might give you a little more idea of what we are like.
AH: Tell us a little more about Loooped.
We're all about defining and expressing brand purpose. We aim to build creative platforms and bring them to life for more exciting, aligned, consistent and effective brand behaviours and ideas.
The candles on our 1st birthday cake are pretty much still smouldering as we chat. It's been a fantastic year. We've worked with clients we like, done work we're proud of, and doubled in size (from tiny to small).
Being a young agency has its challenges, no doubt. We were eager to run from day one, but we're at the point now where we really can. It's hectic, but there's no fence to hem us in.
AH: So what makes you different to every other agency?
Well, we're less of an agency, more of a company of consultants who think hard about brand challenges. We don't have departments, nor will we ever have. If people want to do interesting things then we're interested.
Short-term sales spikes are good for clients' revenue but they really don't create lasting change – and lasting change is our sole purpose.
Everything we do is collaborative, working with very good companies set up to deliver digital comms, TVCs, Sales aids, events and many more tactics besides.
What we offer is help to companies and brands to discover why they do what they do, we then create a story that becomes the launch-pad for execution. It's a bit like a blueprint, a springboard for people to be brilliant off. Creativity lives here, not the perfunctory of production.
AH: You're only a year old, have you been able to pull off this new way of working?
We feel we have. For a learning disability charity – Brandon Trust – we got under the skin of their organisation, and the people they support, and developed a new position and strategy: Live free.
We have developed many of the elements a rebrand needs: a new logo, exhibition, brand book, 'free-speech' events, 'financial freedom' workshops and recruitment communications.
But what has been so inspirational is Brandon and the people they support have fully embraced the Live free strategy and some magical things are starting to germinate. To many, 'freedom' means finding love and they are starting a 'Dating Agency'. Also, technology frees many people with learning disabilities but the expense of mobile contracts keeps them trapped – so there is an initiative to get people to donate their unused mobile data to Brandon and the people they support. We feel we are starting to create lasting change, not only in the way Brandon communicates but in the way it behaves.
AH: Other than a charity, who else have you been working with and what things can we expect to see this year?
Getting people to clean their teeth a whole new way for Unilever; bringing David Beckham glamour to KOL content for Pfizer; getting an orphan Pharma company to make a timely impact for leukaemia sufferers; and we've helped launch a sports education facility that treats people as professional athletes.
AH: Where do you get your inspiration from? What inspires you?
People! Everything that is strange, appalling, wondrous and exciting about people.
AH: Ok so how do I get to interview you then?
Surprise us. Be bold. If you need more info, then you're probably not right for us, nor we for you. Find us, let's talk. Outside of our day-to-day, the next big event we are going to is the Health Lions in June.
AH: Will we get to meet you at Lions Health in Cannes?
We're actively looking now, so yes we hope to.
But we have ambitions and one of them is to create springboard thinking that generates lasting change anywhere in the world – seeing as the creative world is coming to Cannes for Lions health, where better to interview us. There may be a cold beer or two involved.