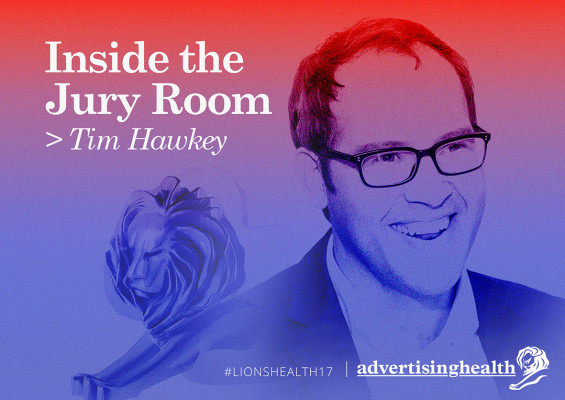 Tim Hawkey is Executive Creative Director at Area 23, and a member of the 2017 Cannes Lions Health and Wellness Jury.
I've just arrived in Cannes, and tomorrow morning marks the beginning of a weeklong journey, looking at the world's most creative work in the Health and Wellness arena. Since the inaugural Lions Health festival a few years ago, the Health and Wellness jury has been faced with the perennial question… Is this Health? Is this Wellness?
Health and Wellness lions is unique in that it is a competition based on sector and sentiment, rather than on medium, like outdoor, cyber, or direct. As a result, Health and Wellness Lions becomes a go-to entry for anything in the other 20 or so Cannes Lions juries that is even remotely related to health or wellness.
According to official guidelines
, "The Health & Wellness Lions celebrate creativity for personal wellbeing. Entries will need to demonstrate an inspired approach to consumer healthcare; that is exceptionally engaging work which publically educates, promotes non-prescription products, allows self-diagnosis or facilitates pro-active personal care.

"
Sounds straightforward, until you realize there are a host of entries that are really on the line. Road safety, gun violence, land mine removal, acid attacks, refugee crises. Each of these cases certainly end in an unfortunate "health" situation for anyone involved, but are they inherently "health"? My vote is yes, but I predict some lively debate about this very topic in the jury room.
Another blurry line for us to ponder will be non-health brands that are committing what I like to call "Health Appropriation". Like a cola brand attaching itself to teen suicide. Or a beer with an important message about drunk driving. How about a bank ATM who wants you to exercise more? Or a kosher dill pickle that is taking on vitamin B deficiency in rural Peru.
These brands are neither health nor wellness. In fact some of them are quite the opposite. So will they get to wear the wellness label for the duration of this awards season?
My vote is no, but I am certain that this is another big question that my jury will spend important time debating.
That's it for now. As the week unfolds I hope to find the time to share some more observations with Ad Health readers.