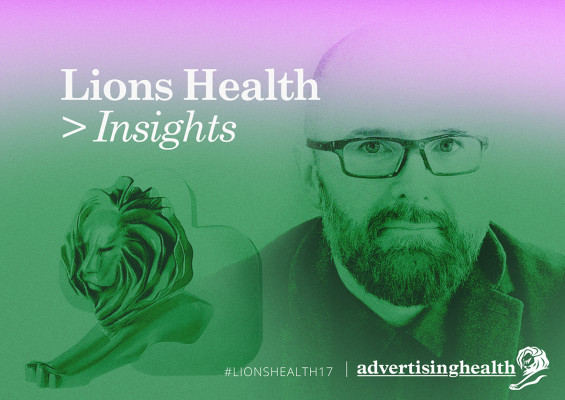 Thom Newton, CEO and Managing Partner Conran Design Group

The Cannes Lions Health Awards programme is very important for the healthcare and pharmaceutical sectors. It creates a platform for the issues and encourages the design industry to strive for continual improvement.
Last year's winning work showed some wonderful tongue-in-cheek entries, such as 'Bad Barista' by Teva UK. It's engaging, funny and yet still drives home the importance of clear communication on prescriptions. This style of creative campaign can help draw people into the detail of the issues more effectively than always showing the stark reality of prognosis or survival rates.
At Conran Design Group we're really looking forward to seeing this year's submissions and hoping for more emotionally engaging content. What I would really like to see is work that demonstrates that the industry is really prioritising the needs of patients, carers and practitioner's. Lions Health is the perfect opportunity to show that this message has been heard.
Are there too many award categories at Cannes Lions? Well, yes … but it isn't easy to balance. The awards list can look daunting and finding the right balance between the number of categories and the ability to recognise broad enough disciplines is obviously difficult. There are so many aspects to the creative process and the Lions Awards list tries its best to reflect this and reward creativity across the broadest spectrum.
When it comes to reflecting the best of the ad industry, the issue of budget spend is always a consideration too. A category spend limit (e.g. below and above £100k) would make for a more level playing field.
Also knowing the framework and parameters the agency had to work with would give additional context to the judging process, e.g. working within a confined brief, but still producing beautiful creative work.  Often, more challenging parameters help us to innovate and be more creative.
Creativity in the pharma and healthcare sectors is incredibly important. Poor medical adherence, caused by unclear packaging navigation and Patient Information Leaflet (PIL) communication, costs nearly 300 billion dollars a year* in additional doctors' visits, emergency visits and hospitalisation.
Medical product packaging is a key point of interaction between patients, practitioners and healthcare companies. Its design parameters are largely driven by regulatory guidelines, with what often seems like little consideration for the patient, carer or practitioner's practical or emotional needs - stakeholder research shows an increasingly dehumanised patient-care experience.
The challenge is broad; a combination of complex treatments, low literacy (among 20% of adult population globally) and poor communication of usage instructions are not only causing a breakdown in the pharm-patient relationship but also detrimentally affects adherence and therefore the safety of patients. Design and communication could make a fundamental difference to these critically importance issues.
The healthcare sector is at risk of alienating the people it is trying to help and patients are asking for change. We all want a human connection to the brands we use and the companies behind them, never more so than when it comes to our health and wellbeing.
Within the healthcare sector, pharmaceutical companies have a duty of care to improve product information and pack navigation, helping patients understand their treatments whilst building human connections.
Design can offer a powerful point of connection and has been proven to help patients feel supported both practically in terms of clarity of guidance, and emotionally in terms of the care and consideration being given by companies to their circumstances.
Our responsibility within the creative industry is to make sure that we approach design in healthcare with a thorough understanding of both the needs of the audiences and the regulatory complexities of the industry. We must plot the most effective course between compliance, clarity and creative impact. Great design can unite these often conflicting requirements and help shape a new healthcare paradigm that benefits all.
*Source: American Heart Association