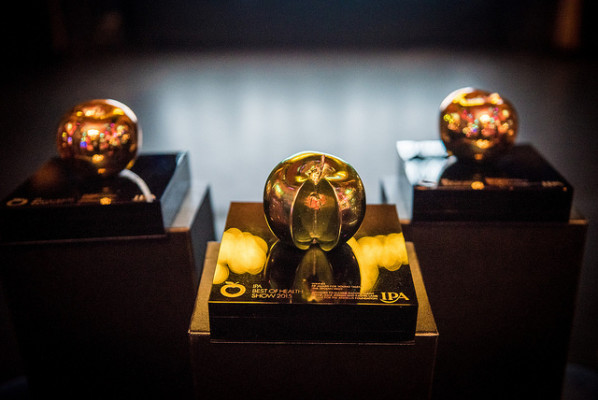 AMV BBDO took home the Best in Show award for their 'Blood' campaign for Libresse/Bodyform at the IPA Best of Health Show 2017. The world-renowned industry awards, which celebrate the best creative work in healthcare advertising, took place at the Wellcome Collection tonight (21st November).
'Blood' was the first campaign to celebrate and feature real blood, encouraging women to feel more equipped to exercise throughout their cycle. The creative featured a number of women playing sport with bloody toes, knees and hands alongside the powerful message that 'no blood should hold us back".
In total, five entries won Gold, 17 were awarded Silver, and 24 collected Bronze. Also awarded was the Pip Award for Young Talent to Cathy McManus and Sam Cavenagh of Sudler & Hennessey.
Says Diana Janicki, Convenor of Judges and Executive Creative Director TBWA\WorldHealth London; "Healthcare advertising can be a difficult job, balancing creative ideas with limitations and regulations. Judging this year's Best of Health Show has provided an incredible insight into the different ways that brands and agencies bring their products to life. We were all impressed with the quality of entries, and everyone taking home a prize should be proud, especially our Best of Show 'Blood', a powerful campaign around what is something of a taboo subject."
Says Chaka Sobhani, Chair of Judges and Chief Creative Officer, Leo Burnett; "The standard of entries for this year's awards was extremely high and it really highlights the breadth and depth of healthcare creative. Congratulations to everyone taking home one of these prizes, particularly AMV BBDO for winning Best of Show."
All winning work will be showcased on the Best of Health website. Join the conversation on Twitter using #BOH17.
Full list of IPA Best of Health Show 2017 winners:
Special Prizes:
Best of Show
Consumer – UK Integrated Campaign, 'Blood' by AMV BBDO for Libresse/Bodyform
Pip Award for Young Talent
Winner:

MeeTwo Time', Cathy McManus and Sam Cavenagh, Sudler & Hennessey

Highly Commended:

'Express Yourself', Sadie Mayes and Laura Banks, ICC Health
Gold Awards:
Consumer – Film, 'Blood' by AMV BBDO for Libresse/Bodyform
Consumer – International Integrated Campaign, 'The Truth Unveiled' by Serviceplan Health & Life / Serviceplan India for IPRAS Women for Women
Consumer – UK Integrated Campaign, 'Blood' by AMV BBDO for Libresse/Bodyform
Craft – Excellence in Cinematography, 'Blood' by AMV BBDO for Libresse/Bodyform
Craft – Excellence in Data, 'I'm Ada, I can help' by KBS Albion for Ada
Silver Awards:
Business to Business – Direct & Promo, 'Healthy Christmas Card' by McCann Health for McCann Health
Business to Business – Direct & Promo, 'Mark's Story' by McCann Health for Anoro
Consumer – Film, 'One Breath' by AMV BBDO for Nicorette
Consumer – International Integrated Campaign, 'San Tzu Ching To Help Moms' by mcgarrybowen Shanghai for Friso
Consumer – Social Media, 'Nasty or Nice' by McCann Healthcare for National Organization for Women
Craft – Excellence in Art Direction, 'Mark's Story' by McCann Health for Anoro
Craft – Excellence in Cinematography, 'One Breath' by AMV BBDO for Nicorette
Craft – Excellence in Copywriting, 'Nasty or Nice' by McCann Healthcare for National Organization for Women
Craft – Excellence in Illustration & Animation, 'Game of Pain' by PINK CARROTS Communications for ORTOTON
Craft – Excellence in Illustration & Animation, 'The Instant Camera with Type 2 Diabetes' by CDM London for Contour Diabetes Solutions
Craft – Excellence in Illustration & Animation, 'The Record Player with Type 2 Diabetes' by CDM London for Contour Diabetes Solutions
Craft – Excellence in Illustration & Animation, 'The VHS tape with Type 1 Diabetes' by CDM London for Contour Diabetes Solutions
Craft – Excellence in Innovation, 'delivering health and happiness' by Anomaly for hmbldt
Craft – Excellence in Innovation, 'I'm Ada, I can help' by KBS Albion for Ada
Healthcare Professional – Direct & Promo Campaign, 'Change the Face' by Havas Life for ViiV Healthcare
Healthcare Professional – Film Campaign, 'Change is Good' by CDM London for Contour Diabetes Solutions
Healthcare Professional – Film, 'Change the Face' by Havas Life for ViiV Healthcare
Bronze Awards:
Business to Business – Direct & Promo, 'Humans at Work' by woolley pau gyro for woolley pau gyro
Consumer – Film Campaign, 'Swimmer' by McCann HumanCare for Psoriasis: The Inside Story
Consumer – Film, 'A world without hay fever' by Serviceplan Health & Life for MometaHEXAL
Consumer – Film, 'The Secret CEO' by Publicis LifeBrands, for Malaria No More
Consumer – International Integrated Campaign, 'Save NJ Lives' by McCann Echo for New Jersey Sharing Network
Consumer – Out of Home & Experiential, 'B!RTH' by Havas Lynx for The Royal Exchange Theatre
Consumer – Out of Home & Experiential, 'Nasty or Nice' by McCann Healthcare for National Organization for Women
Consumer – Out of Home & Experiential, 'Sun Safety On Site' by Havas Lynx for HSS Hire and Cancer Research UK
Consumer – Print Campaign, 'Love to Play' by mcgarrybowen Shanghai for Playboy Condoms
Consumer – Social Media, 'San Tzu Ching To Help Moms' by mcgarrybowen Shanghai for Friso
Consumer – UK Integrated Campaign, 'B!RTH' by Havas Lynx for The Royal Exchange Theatre
Craft – Excellence in Art Direction, 'Save NJ Lives' by McCann Echo for New Jersey Sharing Network
Craft – Excellence in Art Direction, 'The Secret CEO' by Publicis LifeBrands, for Malaria No More
Craft – Excellence in Cinematography, 'The Secret CEO' by Publicis LifeBrands, for Malaria No More
Craft – Excellence in Copywriting, 'The Secret CEO' by Publicis LifeBrands, for Malaria No More
Craft – Excellence in Data, 'Don't Ignore a Cough' by AFFINITY for Prospan
Craft – Excellence in Innovation, 'Tele-empathy' by Klick for SymPulse
Healthcare Professional – Direct & Promo Campaign, PINK CARROTS Communications for ORTOTON
Healthcare Professional – Direct & Promo, 'Digital Sundial' by McCann Health for ROC
Healthcare Professional – Film Campaign, 'Real Stories' by McCann Health for Nucala
Healthcare Professional – Film, 'Claudia's Story' by McCann Health for Nucala
Healthcare Professional – Film, 'Split Second' by McCann Healthcare for PRADAXA
Healthcare Professional – Print Campaign, 'Crime Scene' by Publicis LifeBrands for Lipanthyl
Healthcare Professional – Print Campaign, 'Persistence Pays Off' by Saatchi & Saatchi Wellness for Sandoz AirFluSal