CDM London has successfully completed the first snapchat campaign for The Brain Tumour Charity targeting its hard to reach teenage audience with a disruptive symptom awareness drive.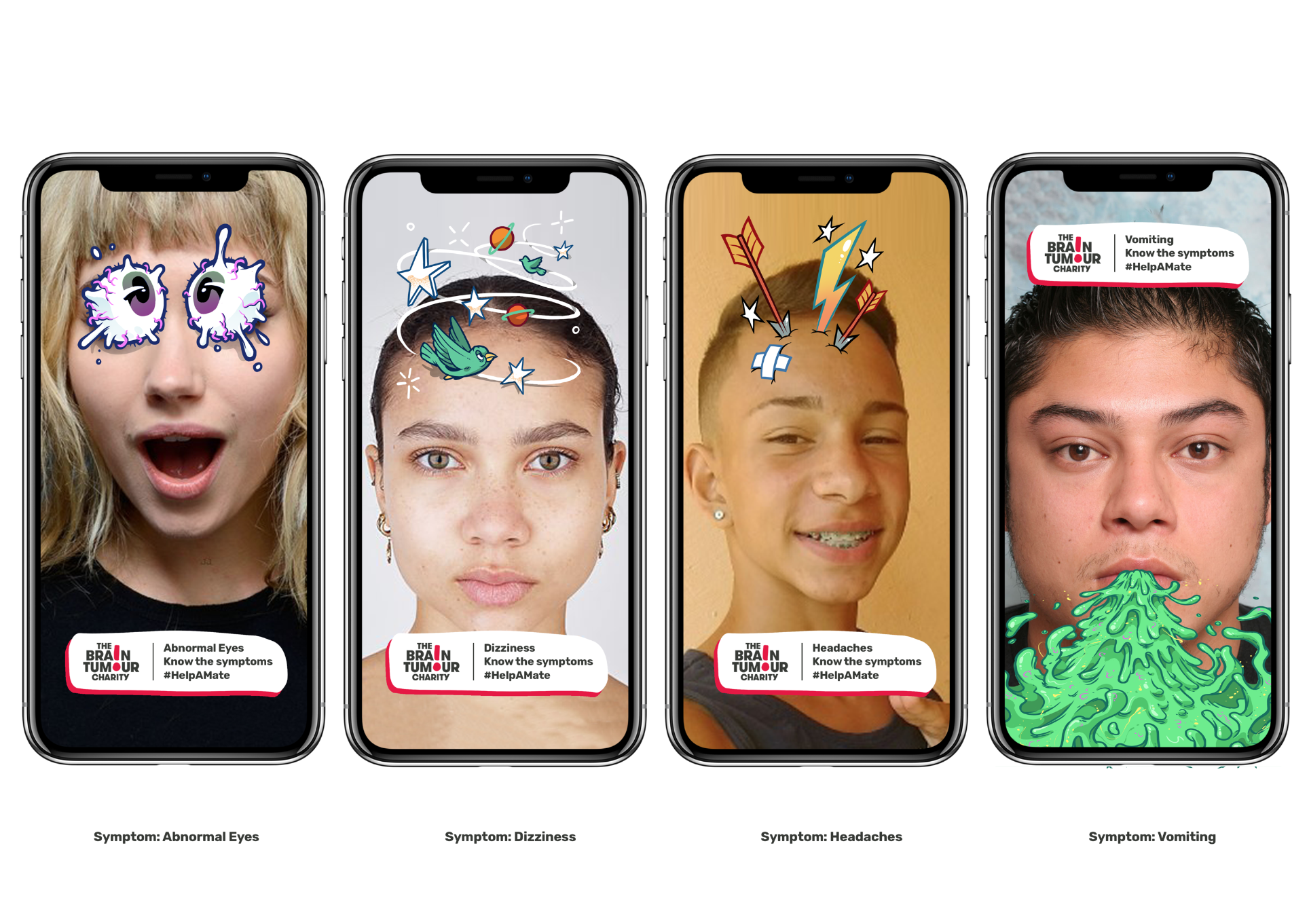 Working with 5 well known illustrators and agency partners, CDM pioneered the UK initiative which ran between Sep 9th and Oct 9th 2019. With a modest budget and immense goodwill, the campaign generated over 5,000 filter shares with branded graphics and half a million video views.
The Brain Tumour Charity has launched an eye-catching social media campaign to raise awareness of the symptoms of brain tumours among teenagers and young adults.
The Snapchat campaign uses filters, illustrated by five well known illustrators, to give teens a very visual idea of what brain tumour symptoms look like, encouraging them to 'help a mate'[GH1]  by sharing the filters, and building awareness of symptoms which may otherwise seem innocuous. Story ads add a cheeky angle using 'Fail Army' videos featuring real teenagers to demonstrate symptoms like headaches or delayed puberty.
Olly Caporn CDM London's Executive CD says "I couldn't be prouder of this work, it's irreverent and in questionable taste, and it's all on mobile, in fact it perfectly reflects everything about being a teenager".
Brain tumours are the most common cause of cancer death among children and young people, with 500 people in this age group diagnosed in the UK each year. Brain tumours reduce life expectancy by, on average, 20 years – the highest of any cancer, and they are the largest cause of preventable or treatable blindness in young people.
Symptoms of brain tumours include headaches, nausea, loss of balance and blurred vision.  The Brain Tumour Charity advises that if a person experiences any of these symptoms persistently, without explanation, they should see their GP.
Shane Gunby, a survivor of a brain tumour diagnosed with he was 15, said: "So many young people use Snapchat, including myself, and showing the symptoms in a way that isn't so daunting is just brilliant!
"I suffer with Diplopia (double vision) and the first filter with the eyes is completely relatable. I love it, it's a great way to get the message out there."
Chief Executive Officer of The Brain Tumour Charity, Sarah Lindsell, said:
"All cancers are tragic, but brain tumours are the biggest cancer killer of the under 40s, so here there is a particularly important job to do in terms of symptom awareness among teenagers and young people. Through our work we know that earlier diagnosis, particularly in children and young adults, can have a significant effect on treatments and quality of life. We hope that this campaign will help young people to better recognise the signs of a brain tumour and encourage them to see a GP if they are experiencing any of the symptoms persistently.
"As the UK's foremost brain tumour charity, we are leading the way in fighting this disease on all fronts through our work. Raising awareness of the symptoms of brain tumours and drastically reducing diagnosis times, is key to our strategy of finding a cure."
Visit www.thebraintumourcharity.org for a full list of symptoms, to find out more about the campaign, and see the Snapchat filters