Lions Health, RB & Save the Children addressed air pollution with new innovations to save young lives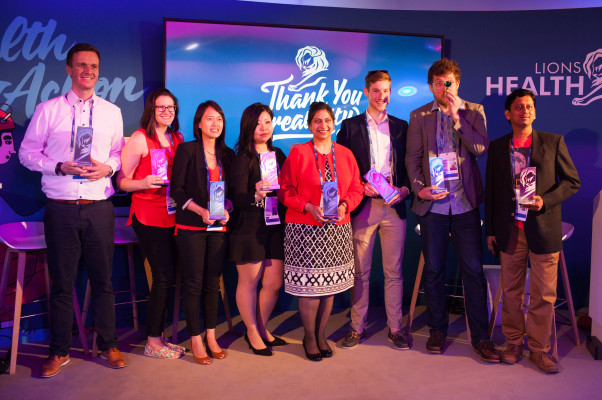 15 June 2016 – An air purifying baby pacifier, lung strengthening musical toy and pollution-trapping paint were proposed as pioneering solutions to the effects of air pollution, the world's largest environmental health risk, in children.
These conceptual ideas were the results of the RB & Lions Health Innovation Hack, held in partnership with Save the Children, at Lions Health, a specialised event within Cannes Lions International Festival of Creativity. It took place this year from 18-19 June. These proposed solutions to protect children's lungs in India, where pollution levels are among the worst in the world, were the results of this first-of-its kind innovation challenge. In just 24 hours, three teams – a mix of RB's R&D and marketing talent plus leading external creatives – developed product concepts, devised marketing launch plans, and considered how their innovations could be rolled out on an international scale. Their ideas were presented at the Lions Health event to a panel of industry judges and a live audience.
Winning the judges' highest accolade, the musical instrument product idea could potentially serve a dual-purpose to encourage a healthy habit; as a toy that strengthens children's lungs whilst creating social noise around the topic of environmental air pollution. The baby pacifier idea focused on changing the future, one breath at a time, by featuring a filter to minimise the inhalation of pollutants. Designed to paint a better world, the third innovation idea would comprise a special technology to brush on building walls and buses to absorb particulate matter and therefore improve air quality.
RB, the global leader in consumer health and hygiene, has committed to exploring the shortlisted ideas to determine if they may have the potential for development and launch to market in the future.
Dr Rossa Brugha, a specialist in children's respiratory disease at Imperial College and an Innovation Hack judge, highlighted the urgent need to find a solution to this global health issue. "Air pollution impacts us all from the minute we are conceived. It is currently responsible for one in eight of total global deaths – killing 7 million people every year, with children most at risk. These proposed product ideas could have a genuine positive impact on the health of children, not only in India, but across the globe."
Dr Sharon James, Senior Vice President R&D, RB said, "All of these products could have a place in the market – they are deeply rooted in consumer insight and have the potential to drive meaningful behavioural change. We are keen to explore the innovations to determine their potential and see what tangible difference we can make in the fight against the effects of air pollution. At RB, we are inspired by a purpose to deliver innovative solutions for healthier lives and happier homes across the globe, and these ideas could help make this a reality."
Bidisha Pillai, Director of Advocacy, Campaigns and Communication at Save the Children and fellow judge commented, "As a mother of two and living in Delhi, my family and I experience the pressing threat of air pollution on a daily basis. The RB & Lions Health Innovation Hack represents another opportunity for our partnership with RB to make a real difference to children's lives. Since 2003, our collaboration has reached over 1.6 million children and we are delighted to be involved in this activity that could help us reach millions more."
Louise Benson, Festival Director at Lions Health, said, "The creativity demonstrated by the RB representatives and external catalysts was exceptional. We are delighted to have hosted the Innovation Hack – the first ever R&D focused event at Lions Health, and we hope it has produced the seeds of some award-winning creations of the future."
Timothy Bruns, hack participant from creative agency Golin, added, "It's been an eye opening experience collaborating with such a diverse mix of R&D experts, from medics, scientists and regulators to representatives from design and packaging teams, to take on a global health challenge. I feel inspired by the ideas developed and proud to be involved in a unique innovation challenge which has the potential to make a real difference to people's lives."
About Lions Health
Lions Health is a global annual awards for creative excellence in pharma and healthcare & wellness communications, judged by international industry professionals. The awards form part of a two-day Festival of content, learning and debate that will explore the essential and unique issues relating to the world of healthcare communications, present exhibitions and screenings of the work being judged, and offer unrivalled networking opportunities.
Lions Health is organised by Lions festivals. www.canneslions.com/lions_health/
About Lions Festivals
Lions Festivals is the organiser of Cannes Lions International Festival of Creativity, Lions Health, Lions Innovation, Lions Entertainment and eurobest, as well as co-organisers, with its joint venture partners, of Dubai Lynx International Festival of Creativity, Spikes Asia Festival of Creativity, and the Asian Marketing Effectiveness & Strategy Awards. www.lionsfestivals.com
Lions Festivals is powered by Ascential.
About RB 
RB is the world's leading consumer health and hygiene company. Inspired by a purpose to deliver innovative solutions for healthier lives and happier homes, RB is in the top 20 companies listed on the London Stock Exchange. Its health, hygiene and home portfolio is led by global Powerbrands including Nurofen, Strepsils, Gaviscon, Mucinex, Durex, Vanish, Dettol and Scholl.
About RB R&D 
R&D at RB is truly unique and proud to be different. We focus on Consumer Driven Discovery – understanding consumers' needs and discovering new ways to innovate and change their lives. Our goal is to initiate and drive and maintain innovations that are consumer-preferred, responsible and sustainable, because people, society and the environment go hand-in-hand.
At RB R&D research, regulatory and medical science all have a voice. Together as one global organisation, we embrace the fusion of science, emotion and creativity, with passion and belief to inspire and discover our best ideas – ideas that make a difference and lead to healthier lives and happier homes.
Find out more about R&D at RB here: https://www.youtube.com/watch?v=h9j7JGCAafo 
About Save the Children
We do whatever it takes to save children. From their first moments of life, we work to get children the healthcare, food and water, safety and education they need to survive and thrive. We're on the ground in 120 countries and we're there for children in their toughest moments, in the toughest places. Our pioneering work helps give children, no matter where they're born, the chance to fulfil their potential. Last year we responded to 97 emergencies and reached 15.4 million children directly through our work. www.savethechildren.org.uk Save the Children's partnership with RB, first launched in 2003, has raised over £30 million to date and reached 1.6 million children. Save the Children and RB are combining expertise and skills to target the devastating global death rate from diarrhoea in children under five with programmes in India and Nigeria.