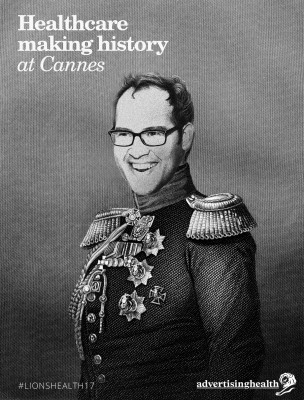 A few weeks have passed since Cannes Lions, and while many things happened right on cue, like the coronation of 'Fearless Girl' and 'Meet Graham', something else has happened that has a lot of people scratching their heads. A health agency, formerly relegated to the Lions Health Festival at the beginning of the week, has shown up on 9 jury shortlists, and is taking home more lions every day.  Area 23, an FCB Health Company, had a small handful of wins in the past, being shortlisted for their Free Killer Tan melanoma campaign two years ago, and taking home Bronze last year for their Insmed 1000 Word About NTM campaign. But this year, they've exploded onto the scene, taking Gold, Silver, two Bronzes, and 7 shortlists at the health festival, accumulating enough points to win the Lions Health Agency of the Year trophy, a first for any US agency.
While that would have been impressive on its own, what is really surprising people is that their health-based campaigns have spilled over to the rest of the festival and are performing incredibly well. At Monday night's award Gala, Area 23 won two bronze lions in Outdoor. What came next was an achievement unprecedented by any agency in the world, let alone a health agency, when the agency won two Glass Lions. For reference, before Monday only 12 Glass Lions had ever been handed out in the history of the competition. And Area 23 won two. On Tuesday night, the agency broke through another huge barrier, being the first health agency to ever be awarded an Innovation Lion (the agency had 2 out of the total 35 innovation shortlists), beating out the likes of Google, Oculus, Samsung and Audi for the coveted honor.
Check out their winning work here: https://www.area23hc.com/2017cannes/
Asked for comment about how they are doing this, Area 23 Executive Creative Director Tim Hawkey replied, "This is very surreal, and somewhat disorienting. We are thrilled and humbled by the results so far. If I had to say what one thing we're doing different to make this happen, my answer would be… everything. It's a full court press at the agency. All departments are aligned on a single mission to elevate the work to the highest level, and fight like hell to protect the quality. We have a wonderfully diverse staff with fresh points of view from around the world. We're working with the world's best vendors, like Lightfarm Studios in Rio de Janeiro. At the end of the day, we're an agency that just wants to make something beautiful and sublime for our clients. These 10 lions we have so far are an amazing seal of approval on the work, but it's still about the work for us. Our FCB motto is Never Finished. We're not looking to just win a lion and move on to the next sexy project. Our campaigns strive to be Never Finished. The goal is to make famous campaigns that become a part of popular culture, and that takes time. So we're in it for the long haul."
Some other notable agencies that are chipping away at the healthcare barrier are Medulla Communications, former Health Agency of the Year, with shortlists in PR and Promo juries; as well as McCann Workgroup India, with a Silver Direct Lion, and Media and Product Design shortlists in the mainstream festival; Langland, with an Outdoor Lions shortlist; and Havas Life São Paulo with a Silver Entertainment Lion.
Diego Freitas, Creative Director of Havas Life São Paulo - who picked up a Silver Lion for their 'Parkinsounds' campaign – said of their win: "the cool thing about the entertainment lions for music is that the jury and the category are a great mix of advertising and showbiz. It's unprecedented for a Pharma case to win in entertainment, and it shows how far we have come as an industry."

Amit Akali, Chief Creative Officer of Medulla Communications and What's Your Problem, also commented: "The pharma awards were set up to reward work that works in spite of restrictions. Therefore, the feeling is that the work isn't as good as maybe the work in mainstream advertising, but wins because it's amongst other similar work. The fact that 3 of the bigger winners in the Pharma Lions also won/got shortlisted across mainline categories like PR, Promo and direct, speaks a lot about the quality of work done by healthcare and pharma agencies. It's the kind of work you'd like to do irrespective of which agency you are in. Thus, it's the kind of work that would attract mainline talent to healthcare agencies. We for one, in spite of being a small healthcare agency, have been winning most of the mainline awards in India (including Effies, Goa Fest, etc) for the last few years. Our performance at Cannes this year is only a reflection of the same."
Have health agencies taken down the wall between Lions Health and Cannes Lions? Will health agencies make the very existence of the Lions Health Festival obsolete? It's too early to tell, but this wild ride for health agencies is definitely exciting to watch.
Bring on Cannes Lions 2018!