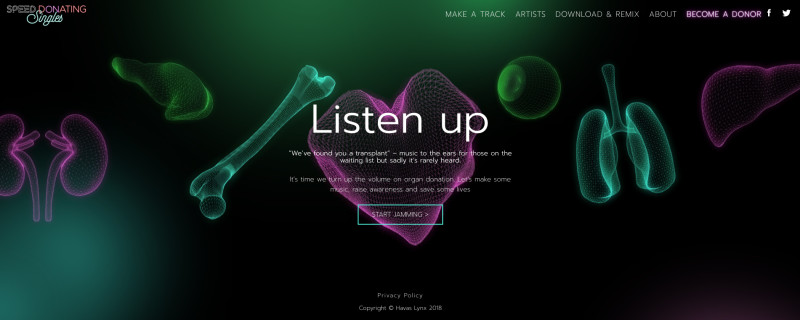 Approximately 86,000 people across Europe are currently waiting for a life-saving organ transplant. Unfortunately, 16 of them will die today because they won't find a suitable match in time.
Following its quirky and memorable 'Speed Donating' film campaign with RSA Films, leading Manchester based healthcare creative agency, Havas Lynx, has amped up the volume on its organ donation awareness work, in a ground-breaking collaboration with leading international musicians.
To help drive sign-ups to the NHS UK organ donor register, Havas Lynx has enlisted artists from around the world to contribute to a unique remix project.
Wild Beasts, Everything Everything, British Sea Power, Dutch Uncles and Field Music, to name just a few, have each pledged to contribute an audio file known as a 'stem' (eg. a drumbeat, bassline, guitar riff, synth line, etc) to a central database. Some artists have created fresh audio material especially for the project, while other artists have contributed a stem from existing and well-known tracks.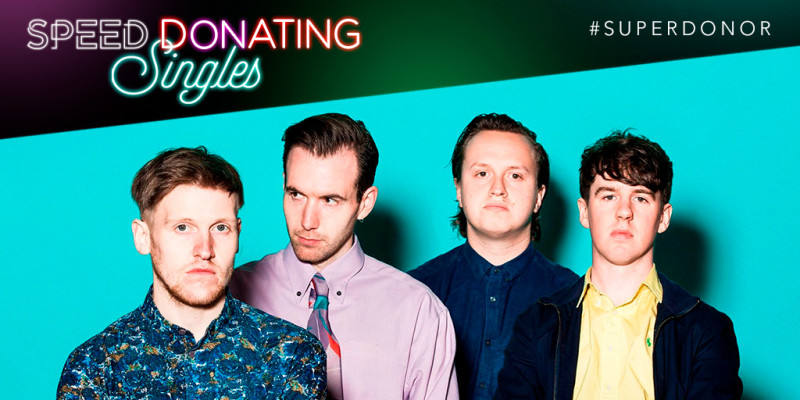 Each donated audio file represents different body parts, collated onto a central database (reflective of the organ donor register) hosted at  https://www.speeddonatingsingles.com/
The thought-provoking campaign is based on the idea that donating and re-using music stems to create something new, unique and valuable, represents the simple but powerful impact of an organ donor who has the potential to create new life—literally – for patients awaiting an organ transplant.
Visitors to the site can create their own songs using on an online mixing deck, while professional musicians and keen music fans are being encouraged to download and share the library of stems and re-mix them professionally to create tracks. A selection of the best mixes will feature on a free, downloadable album for further promotion of the cause on social media.
The original 'Speed Donating' campaign was launched in Sept 2017 and has since been responsible for over 1000 signs up to the register in the UK alone, potentially saving 8000 lives.
The campaign urged people and organisations to sign up to the NHS organ donor register, or to become 'super donors' – donating cinema space, studio time, radio airwaves, space in newsletters etc.
This second phase of the campaign has been co-ordinated by Robin Richards, of the Dutch Uncles, who has donated original stems as well as stems from some of the band's most popular tracks.
 Commenting on the campaign, Havas Lynx CCO, Tom Richards, said:
"This is an imaginative and lateral approach to a healthcare crisis that can be solved simply by raising awareness. We wanted to reach out to people across the globe, find a way of capturing their imaginations in a way which will motivate them to become organ donors.  What better way than via music, probably the most shared and evocative creative medium on the planet.

"The online mixing deck enables anybody to create and share their own music for free, using incredible stems from contemporary, internationally renowned artists. We are hugely grateful to all the musicians who have so generously donated their music and time to support this project.
Robin Richards, of Dutch Uncles, said: "The stems database represents the organ donor register. The ease with which is it to upload a stem to help somebody make a track is representative of how simple it is to sign up to the organ donation register and potentially save a life."
Below is a list of artists who have already pledged to donate stems, with further artists set to be announced in second and third waves in early 2018: Bossy Love British Sea Power C Duncan Dutch Uncles Everything Everything Field Music Francis Lung Girl Ray GoGo Penguin Kiran Leonard Public Service Broadcasting Pulled Apart By Horses Stealing Sheep Sky Larkin Wild Beasts The stem database project is part of a wider drive to stimulate organ donor registration dubbed Speed Donating. Check the Speed Donating website for more details.
If you would like to get involved remember to send your remix back to speeddonating@havaslynx.com to be featured on our playlist – soundcloud playlist link.
FOLLOW THE CAMPAIGN ON TWITTER:
#speedonating #superdonors.
https://twitter.com/dutchuncles
https://instagram.com/dutchuncles https://www.facebook.com/dutchuncles http://dutchuncles.co.uk/