Draftfcb Healthcare has rebranded to FCB Health, and has also acquired UK healthcare agency Halesway, effective immediately, the agency announced today.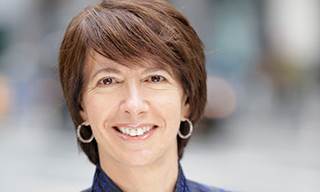 "What a day," Dana Maiman, FCB Health president/CEO, remarked in an email to all employees this morning announcing both name change and acquisition.
The renaming of the healthcare agency coincides with the decision by DTC shop Draftfcb to change its name to FCB (Foote, Cone & Belding), marking a nod to both agencies' origins.
In 2006, Interpublic Group decided to fuse FCB with Draft, an agency known for direct marketing, and the then-named FCB HealthCare took on the Draft name, becoming Draftfcb Healthcare. Until then, FCB was a traditional HCP shop doing sales aids, ads and direct mail.
FCB Health has since blossomed into one of the largest healthcare agencies. Almost a quarter of its work is on the consumer side, the agency said last year. High-profile biotech accounts mix with big pharma on the agency's roster, including Amgen's bone drug Prolia, Bristol-Myers Squibb's Yervoy for melanoma and Novartis's Gilenya for multiple sclerosis.
As to why FCB decided to shed the Draft name from its branding, FCB global CEO Carter Murray, in a statement today, said that after merging seven years ago, the entities "now have one seamless offering. It's time to simplify our brand name as well to reflect our focused identity and direction."
The global network will be called FCB (Foote, Cone & Belding), with a local element added market-by-market. Typically, each office will add the city in which they operate, for instance, FCB Shanghai, FCB Paris or FCB Chicago.

As regards the acquisition of Halesway, the UK healthcare shop represents the first international acquisition for Maiman's agency. Maiman added in the internal memo that acquiring Halesway "is the first major step in our long-range plan to expand our resources around the globe."
With approximately 45 employees, Halesway is 100% healthcare focused and specializes in integrated digital and traditional media campaigns across multiple target audiences, including HCPs, patients, pharmacists, sales teams and general consumers.
The acquisition, terms of which are not being disclosed, is effective immediately. The agency will be known as "Halesway, an FCB Health Company" and will continue to be led by its current management team of Liz Rawlingson, founder and president, and Niki Crossley, managing director, commercial. They will report to Maiman, while Neil Padgett, managing director, creative, will report to Rich Levy, who is EVP/chief creative officer, FCB Health, according to a statement.
"Halesway adds depth and great resources to our organization and I'm confident the partnership will demonstrate immediate benefits for us and our clients," continued Maiman in the internal e-mail. "During our 12-month courtship, we've had the pleasure of collaborating on new business opportunities and utilizing some of the Halesway team to provide UK and EU customer insights for existing clients."
Pharmaceutical, medical device and OTC clients for Halesway, according to the statement, include Abbott, Baxter, Boehringer Ingelheim, Hospira, MSD, Novartis, Reckitt Benckiser and Smith & Nephew.
Source : http://www.mmm-online.com/draftfcb-healthcare-rebrands-to-fcb-health-acquires-uk-shop/article/337593/