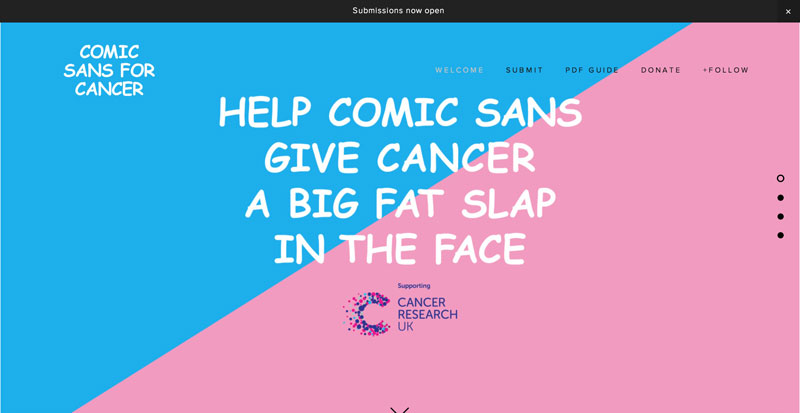 At last you can use Comic Sans with impunity for this Cancer Research poster project.
Comic Sans is quite possibly the most hated font by designers, which makes using it in a fun project pretty challenging – even if you're not taking its application too seriously. But this project in support of Cancer Research could see you looking below Charter on your fonts list for the first time in ages.
It's the 20th anniversary of Comic Sans this year, so organiser Chris Flack – a London-based, New Zealand-born graphic designer for TVC – wants you to design an A2 poster based on the font. You can send them to the organisers, and some will be selected for an exhibition in London in July.
"We all know people that have been effected by cancer and wanted a fun and quirky way to raise awareness and money for Cancer Research," Chris told us. "I've personally had close friends and family effected by it. We wanted to something that was fun and inspiring and celebrate the 20th year of Comic Sans in style.
"Everyone loves to hate Comic Sans – so why not take the font the everyone loves to hate and put it to good use? As a designer I despise Comic Sans and that's the fun of it."
Chris is having fun with the project, saying in its PDF guide for the project: "This may be the first time we publicly admit to having used Comic Sans. We apologise in advanced to the design gods for the design sins we are about to commit. Please have mercy on our souls."
For more detail see comicsanscancer.com or follow @comicsanscancer on Twitter.
Cancer Research is nailing it right now for social-driven creative campaigns. It's #nomakeupselfie project earlier this year helped it raise over £8million in six days – despite a mixup leading to some donators giving money to Unicef instead.
Source : http://www.digitalartsonline.co.uk/news/graphic-design/design-charity-poster-using-comic-sans-help-cancer-research/