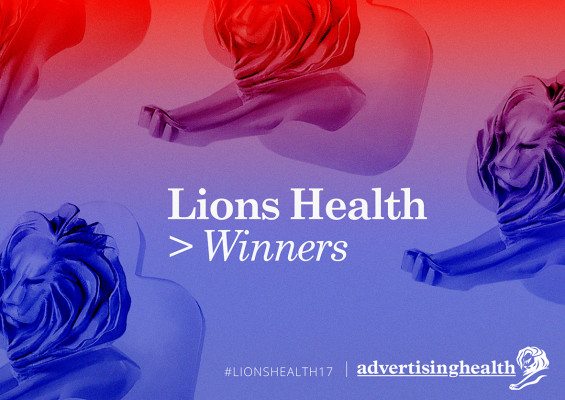 This years Lions Health winners have just been announced. A massive congratulations to all the agencies that have converted their shortlist into a coveted lion.
After scouring all the winners there's definitely some trends and learnings we can all take from this years festival. For the second year on the trot, unbranded campaigns seem to have dominated the winners lists. The biggest question facing our industry is wether or not there is still a place for branded Pharma work at award shows? And how does a regulated branded campaign compete against non-Pharma brands making consumer facing campaigns that are ultimately a whole lot sexier in idea and execution.
Pharma Jury President, June Laffey (Executive Creative Director, McCann Health, Australia and South East Asia) said that there was a conscious effort to protect the differences between the two categories of our industry (Pharma and Health & Wellness) and to be clear that Pharma winners need to reflect the stringent regulations in our industry. The most awarded campaign in the Pharma category was "The Immunity Charm" – created by McCann Health New Delhi for The Ministry of Public Health (MoPH) in Afghanistan (?). The idea in itself – a bracelet – was a simple creative solution that harnesses a long-standing cultural tradition, to provide mothers with a powerful new incentive to get their children vaccinated.
June Laffey mentioned that there was much debate about awarding a Grand Prix in Pharma to "The immunity Charm", their obvious choice, but ultimately it was ruled out as it was a Public Health campaign. Interestingly, it also picked up a bronze award in the Health & Wellness category.
The highlight from the Health and Wellness category was without a doubt Graham. (Have you met him?) A simple and harrowing creation that reminds us of our fundamental weakness as human beings – our bodies. They are just too vulnerable to survive even the lowest impact car crash, and Transport Accident Commission Victoria should be lauded for their bravery in trying something different.
Observationally, one might need to squint long and hard at the winners list to find work made by an actual healthcare agency. Out of the 80 pieces that won, only 2 of them were specialists in healthcare. Perhaps a sign that we as an industry need to flex our creative muscles a bit harder than our medical brains. Or maybe challenge our clients/Pharma marketing execs to succumb to the power of better creativity – bolder creativity. Ideas that shake up their category and have impact. Ideas that ultimately lead to more sales. Either that or have more stringent rules for agencies entering
Health and Wellness Jury President Mike Rogers (Creative Partner, Serviceplan Health & Life) noted that health and wellness is highly competitive, and that his agency often finds themselves up against consumer agencies pitching for health and wellness work.
All in all it is very clear that the standard and quality of work has improved drastically, and as such every piece of metal you or your agency has won should be cherished.
I expect next years competition to be even more fierce…
Here are the main winners with links to the full results :
Healthcare Network of the Year:
Winner: McCann Health
Runner-up: FCB Health
Healthcare Agency of the Year:
Winner: Area 23
Runner-up: Medulla Communications, Mumbai
Grand Prix for Good:
'The Immunity Charm' for Ministry of Public Health, Islamic Republic of Afghanistan by McCann Health, New Delhi
Pharma – Grand Prix
No Grand Prix was awarded for Pharma this year.
Health & Wellness – Grand Prix
'Meet Graham' for Transport Accident Commission Victoria by Clemenger BBDO, Melbourne.
Here are all of the Winners:
Pharma Winners – Full List >  (From 590 entries)
Health & Wellness Winners – Full List > (From 2245 entries)