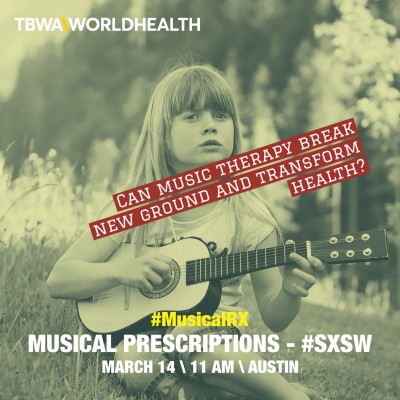 TBWA\WorldHealth, a global healthcare communications network, will present "Musical Prescriptions: Compose a Healthier You," on March 14th at 11AM at the Austin Convention Center. The innovative panel session will explore the powerful effect that music therapy has on health at this year's South by Southwest Interactive Festival (SXSW), March 10-19 in Austin, TX.
"The idea behind the session for SXSW was to stir conversations around new ways to improve health, said Robin Shapiro, Global President, TBWA\WorldHealth. "As communicators and creators we have a lot to contribute to that dialogue. The day will come when agencies will spend as much time creating and patenting new healthcare technologies, as we do communicating about them."
This provocative panel, led by Bob Vogel, healthcare advertising veteran and Strategist for TBWA\WorldHealth, will deliver theories and observations on the therapeutic properties of sound and the profound impact music has on a myriad of health issues. With insights and perspectives by cutting edge thought leaders and experts at the forefront of the health and music space, the panel will provide proof, illustrated with brain scans and scientific data, that music stimulates us physiologically.
Session moderator and life-long music lover, Bob Vogel, asserts that improving health is an amalgam of traditional and non-traditional approaches. He will be joined by Dr. Jennifer Brout, Psy.D, Founder and Chairperson of Duke University's Sensory Processing and Emotional Regulation Program and Managing Director of SENetwork/International Misophonia Research Network; and Steve Knill, Executive Vice-President at GMR Marketing, part of the DAS Group of Companies, a division of Omnicom Group Inc.
Dr. Jennifer Brout brings to the panel years of specialized knowledge focusing on the intersection of music and health. As an advocate of alternative approaches to healthcare, she believes that complimentary avenues can augment, not replace traditional approaches to healing. A pioneer in the establishment of better research,
improved diagnosis, and innovative clinical practice related to Misophonia (under the name "auditory over-responsivity"), Dr. Brout has been at the forefront of research related to the syndrome for over 18 years. She contributes her expertise on the effects that music has on individuals which GMR Marketing utilized to develop their MAT protocol.
Panelist Steve Knill offers expertise in the contemporary usage of music therapy in the healthcare arena. He currently leads the development of GMR Marketing's Music Assisted Therapy effort and is piloting a mobile application powered by Omnicom's MusicLink licensing portal. The digital and mobile app is designed to allow caregivers and patients access to music curated via algorithms to assist in emotional regulation and behavioral modification. Knill also leads a global team in developing music programs with brand and agency clients and drives GMR's management of the Omnicom MusicLink licensing portal.
"SXSW is the ultimate venue to showcase emerging ideas and explore new frontiers in sound healing technology," said TBWA\WorldHealth Chief Digital Officer, Dan Chichester. "As healthcare and wellness converge, TBWA\WorldHealth continually embraces new innovations within the health and wellness sphere and leverages those leading-edge advances to help our clients connect."
Session attendees will take away cutting-edge approaches utilizing musical intervention as a powerful treatment tool and materials to continue their own sound healing exploration including a customized music therapy playlist and a recommended bibliography.