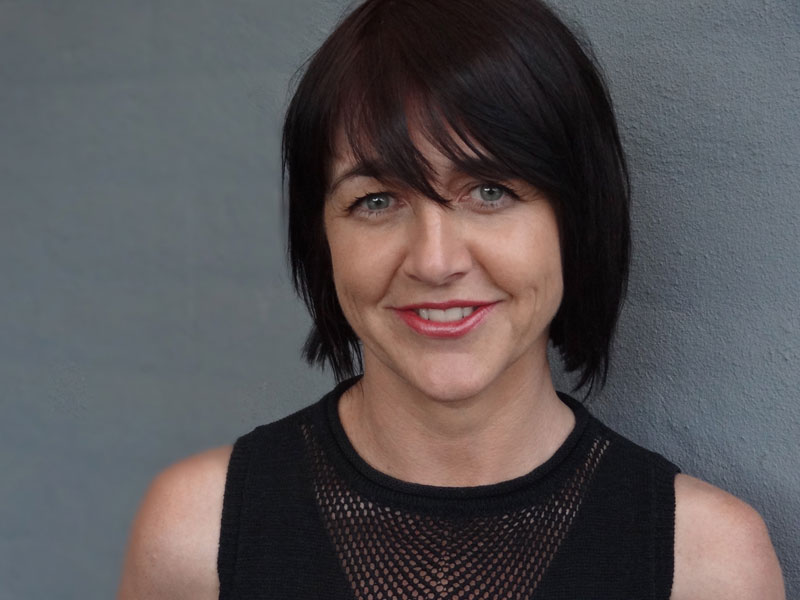 This week we were lucky enough to speak to Sharon Howard-Butler who co-leads Saatchi & Saatchi Health Sydney's creative department with Craig Chester, Head of Art.
I grew up in a beachside suburb of Sydney. I couldn't surf but I loved creative writing, art and design, and was fascinated by advertising and filmmaking. So in my last year at school I did work experience at J Walter Thompson (JWT). On graduating, they took me on as the first girl trainee to start in their mailroom. It was a fantastic grounding, as it meant I got to talk to people across the entire agency and learn about their roles. As part of the traineeship I was moved first to the art department and then to the TV production department while studying graphic design in the evenings. When I was working in TV production I took on the additional challenge of AWARD school (Australia's version of D&AD school). My AWARD school portfolio impressed the creative director enough to secure me a position as a junior copywriter. I was fortunate to have some great mentors there. Years later when the opportunity came to join a highly awarded, creatively led healthcare ad agency, Curtis Jones & Brown, I did just that, and I haven't looked back. I joined Saatchi & Saatchi Health a little over five years ago as a senior copywriter. I was promoted to Head of Copy in 2011.
AH: Tell us a bit about your company and what you are doing
SH: Saatchi & Saatchi Health Sydney is an integrated health and wellness focused agency. We have people with creative, digital and medical education expertise all under one roof, working together to create seamless brand experiences. Our inspirational dream is to be revered as a hot house for world changing ideas. While we still have a way to go, we're getting there. Last year we were the third most shortlisted agency in the world at The Global Awards. Langland in the UK had 32 entries shortlisted, The CementBloc in the US had 11 entries shortlisted and we had 10 entries shortlisted. We have won two Globals two years running, and have also won many other international awards in recent years. Not bad for an agency of just 32 people.
AH: Tell us about a piece of recent work that you are proud of?
SH: I'm proud of our Vivaxim 'Critters' campaign. Picking up two Globals last year, it was the campaign that got us over the line to be named the most awarded Australian agency at The Global Awards in 2013. It was voted Best of Show at BRAVO! an event that celebrates the best healthcare work in Australia and New Zealand and it received four awards at IPA Best of Health. It has also performed well for our client, in terms of sales growth for their brand. What's more, it has helped increase awareness for travel vaccination generally, so more Australians are now protected from disease when they travel overseas.
AH: Are there any projects you are working on that we should keep an eye out for in the coming months?
SH: We've had a campaign approved in the area of mental health that we're excited about. But it will be sometime before it actually runs, as the website we're driving people to needs to be developed first! We just pitched with some work that moved our planner so much she cried. That's the sort of work I'd like to get up…work that connects with the audience in a way that can make a real difference.
AH: If you could win any award for your work this year what would it be and why?
SH: Lions Health is the big award this year. It's because it's a Lion, with all the kudos that comes with that. And it's their inaugural year too, so the spotlight is on this event. The Globals are also an important award show that we enter every year. If we could we'd enter Lions Health, Clio Healthcare, IPA Best of Health and Creative Floor. However, due to budget priorities we are only entering two award shows this year. In any tally of awards, agencies with unlimited awards budgets have an advantage. What I'd like to see is a final showdown award (it could be run by Advertising Health), entry would be free with the pre-requisite being the work entered needs to have been recognised by at least one of the other major healthcare award shows. Then there would be a fee for having the winning work uploaded and showcased. It'd be the ultimate hall of healthcare advertising fame – forming a great archive of inspirational healthcare advertising work over the years.
AH: Do we really need award shows? What value do you see them offering?
SH: There are a lot of award shows, probably too many. (And there I was just suggesting another one!) But the handful that matter do play an important role. Because they set benchmarks in creativity for the years that follow, helping to ensure we keep striving to do even better work. Lists of awards won also look good on agency websites and on resumes. And awards can help to create a hunger for great work in clients. It's much easier to do great work when you have clients who are as passionate about it as you are.
AH: How would you see the work other agencies are making if award shows didn't exist?
SH: We'd see the work through advertising blogs like yours, and sites like adsoftheworld.com and bestadsontv.com but there is something special about having work recognised as being the best that year. It settles the argument. When that work is celebrated we then work to better that the year after.
AH: Should healthcare advertising still be regarded as separate from the wider Advertising community?
SH: We're part of the big advertising community and part of a niche healthcare advertising community too. We need to produce work any agency would aspire to.
When you look at the work that's winning at healthcare award shows, the standard is up there. But medical regulations stop it from being an even playing field. It's why there is a place for healthcare award shows.
AH: Do you consider yourself as someone who works more in advertising of more in pharma?
SH: I see myself as both. I am strategically and creatively focused. So in that way I'm an advertising person. I've won some big awards in both consumer award shows and healthcare award shows. But I'm proud to work in the area of healthcare, as connecting people to the right information, product or medication can change lives for the better.
AH: Do you think we sometimes use regulation as an excuse to make work that doesn't live up to standard consumer advertising?
SH: I'm disappointed when I look through medical journals. There are still some woeful advertisements found between their covers.  If clients are happy to have work like that run for their brands it means we still have a lot of work to do.
We need to show them that work that scores well on creative ROI (relevance, originality and impact) will give them a return on their business ROI (return on investment).
AH: Do you think healthcare agencies should start planning their own media to get the creative control they need?
SH: We work closely with media companies not just to get creative control, but also to get our clients the results they're after. Because it's not just what you say that stirs people, it's how you say it and where you say it. We have something valuable to offer on this front. Our digital director, Salem Lassoued, has developed a unique tool called Customer Insight Analysis (CIA). It uses customers' digital shadows to paint a picture of our target audience and how they interact with the online and offline world. CIA delivers accurate demographic and psychographic information, and maps behaviour. It allows us to zoom in on different aspects of the target audience and focus on how this is relevant to the category and the brand. It means we can work out how and where to connect with them so that they'll be receptive to our messages.
AH: What is the single change you'd like to see in the industry this year?
SH: I'd like to see a stronger move towards creativity for the greater good. We should be giving back by getting behind worthy courses, helping our clients become more visionary in what they are setting out to achieve, and improving the quality of our work so we don't contribute to advertising pollution.
AH: Where do you look for inspiration?
SH: It's about being aware and taking in the world around you. Inspiration is everywhere art, cinema, books, going places, meeting people, hanging out with my 11 year old son and seeing the world from his perspective, talking to my husband about his day. It's about having genuine stories and experiences that you can draw upon. It can also be about just making a connection or putting a twist on something familiar.
AH: Is it just us or does chasing the 'pharma first' make us sound second rate as an industry? Shouldn't be just be chasing 'first'
SH: We need to take it one step at a time. Being first in pharma is an achievement and a good marker on the way to being first overall. Healthcare agencies are already competing and winning awards at consumer advertising award shows.
AH: Do you look at other healthcare agencies around the world? Who do you think is making the best work at the moment?
SH: Interestingly, my main gauge is award show performance! Langland in the UK has been consistently doing great work. It's good to see the standard of healthcare creative work improving so much in the US too. There has some really impressive work from agencies like The CementBloc. Not to forget Australian agencies, we have some good talent here. And on the network front, McCann Health has performed well over the last few years.
AH: What is the best piece of work you've seen this year?
SH: There has been some great work over the last 12 months but for me the standout was Ogilvy Brazil's 'Immortal fans' campaign for soccer club Sport Club Recife.
AH: How do you compare the quality of creative work in healthcare Advertising vs Consumer advertising?
SH: When you look at the best healthcare work it's up there with the best work from consumer agencies. But consumer agencies do seem to be better at doing big campaigns with high levels of engagement. They also seem to be better than healthcare agencies at doing health related world changing ideas. There is Droga5's UNICEF TAP project and their Help Remedy adhesive bandages (that save lives by making it easy for people to become bone marrow donors). There is also Saatchi & Saatchi Israel's Blood Brothers campaign, Saatchi & Saatchi Sydney's storybook to test children's eyesight and other agencies with campaigns to help stop bullying, help people quit smoking and games to help kids who are fighting leukemia.
UNICEF Tap – https://www.youtube.com/watch?v=RyjTg4w-J7A
Blood brothers – https://www.youtube.com/watch?v=giH17yZ-dVU
AH: What one thing would you want to say to someone new to the industry? That you wish someone has said to you when you started?
SH: The right agency culture is important. Creative talent can wilt in the wrong environment. Work somewhere that is creatively driven and producing great work, so you can learn from the best.
AH: Who do you look up to and why?
SH: Well I'm only 160cm (5'3") so I look up to just about everybody. But then I do respect some people more than others.
AH: If you could read an interview on advertising health from anyone in healthcare advertising who would it be with? And what would you want to know?
SH: I'd like you to interview Philip Chin, Chief Executive of Langland.
It would be interesting to learn more about his working relationship with Andrew Spurgeon and how becoming creatively driven has changed their agency culture, their relationships with clients and has grown brands.