VCCP Health and HAVAS Lynx Group sweep the board with wins.
LEO and Teva are the top pharma companies recognised.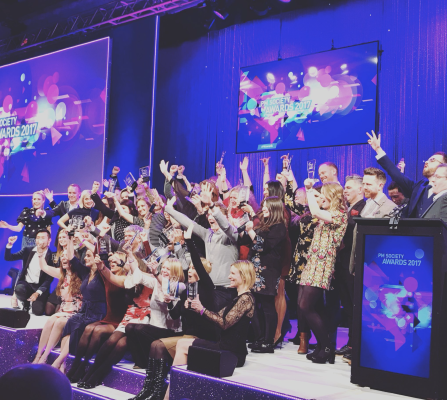 The 32nd annual PM Society Awards, announced at the Grosvenor House on 2nd February saw a record number of Golds won by a single agency – VCCP Health. They scooped an amazing 10 Golds plus 3 Silvers and 3 Bronze awards. The other big winner on the night was the Havas Lynx Group (Havas Lynx; H4B Manchester; Havas Life Manchester) who collected 3 Golds, 6 Silvers and 2 Bronzes.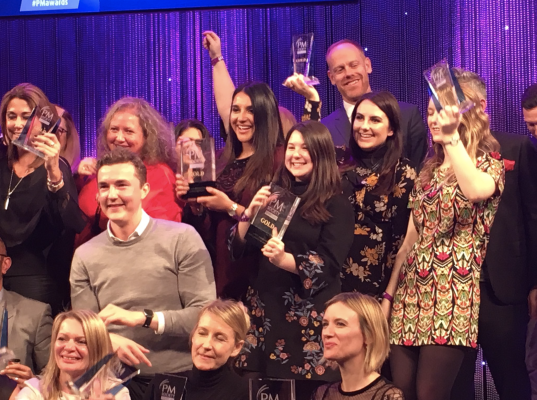 Other notable agencies were Lime who took two Golds, and CDM London, Life, McCann Health, Solaris Health & Watchable and vivacity each took one Gold Award.
LEO Pharma won an impressive 6 Gold Awards, making them top of the pharma charts overall. Teva Pharmaceuticals received 5 Golds and the most awards overall with 12 in total. Dexcom took 2 Golds and single Gold winners included Mylan, Roche/Chugai, Sanofi Genzyme, Pfizer, GSK and Aimmune.
The event was skilfully hosted by Alan Carr in combination with comedians Kerry Godliman and Tom Ward and everyone's favourite voice, Alan Dedicoat, the voice of Strictly.  Although VCCP Health walked away with a record haul of gongs it was fantastic to see 25 different agencies coming away with at least one Bronze award out of the 33 agencies represented.
This ceremony also saw a special presentation to the PM Society's Vivien Bennett who has worked behind the scenes organising the event since it began in the late 80s. Awards Chairman Neil Smith, who has worked with Vivien on the event for over 18 of those years, called her on stage to thank her in front of the crowd and to say farewell to one of the industry's legends.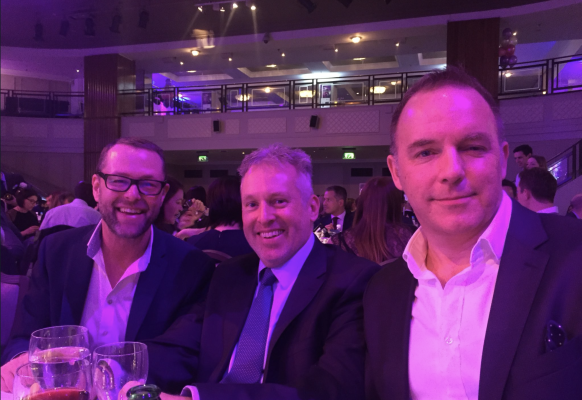 About this year's competition, Smith said "This year saw a wide and diverse range of some 284 entries from no fewer than 64 different agencies.  Of our 19 different categories, four were new this year including what proved a very popular 'Best Use of Insight' award.  Digital entries, which accounted for roughly half of the total, could be viewed at the event on our self-selecting video screens, alongside our popular print exhibition. After 18 years I remain very proud of this event which still draws the biggest crowd in the industry calendar."
Head Judge Tracey Brader commented: "There were some amazing entries this year, some were incredibly well crafted which made them justifiable winners while others stood out for breaking new ground. For me the addition of the 'Best Use of Insight' award marked an evolution in the craft celebrated by the PM Society Awards and the Best of Show winner 'Give Nothing to Psoriasis ' by VCCP Health for LEO Pharma demonstrated how insight and creativity coming together can really lead to emotionally challenging and thought-provoking work." 
The PM Society Awards recognise creativity, impact and innovation across pharmaceutical and healthcare advertising and communications. They are still unique in including 5 Target Awards that are judged by nationwide online surveys of healthcare professionals or pharmaceutical executives – the "targets" of the work. Other categories are judged by panels of Creative Agency and Industry experts.
2017 PM Society Gold Awards Winners:
Craft Award for Sales Aid:  VCCP Health for Teva Pharmaceuticals
Craft Award for Film & Animation (HCPs):  VCCP Health for LEO Pharma
Craft Award for Film & Animation (Patients):  Havas Lynx for Teva Pharma Europe
Craft Award for Interactive Communications:  VCCP Health for Teva Pharmaceuticals
Craft Award for Events and Exhibitions:  McCann Health for GSK
Craft Award for Disease Awareness(HCPs):  Solaris Health & Watchable for Aimmune
Craft Award for Disease Awareness (Patients):   VCCP Health for LEO Pharma
Craft Award for Patient Support:  Havas Lynx for Roche/Chugai
Target Award for House Promotion:  Life
Target Award for Corporate Communications:  H4B Manchester for Sanofi Genzyme
Craft Award for Primary Care Advertisement:  VCCP Health for LEO Pharma
Craft Award for Advertisement Campaign:  VCCP Health for Teva Pharmaceuticals
Craft Award for Primary Care Campaign:  VCCP Health for LEO Pharma
Craft Award for Secondary Care Campaign:  CDM London for Pfizer
Craft Award for Secondary Care Advertisement:  VCCP Health for Teva Pharmaceuticals
Target Award for Advertisement Campaign:  Lime for Dexcom
Target Award for Primary Care Advertisement: vivacity for Mylan
Target Award for Secondary Care Advertisement:  Lime for Dexcom
Best Use of Insight:   VCCP Health for LEO Pharma
Best of Show:  VCCP Health for LEO Pharma