Med Ad News Announces Finalists for the 2017 Manny Awards and Names Dana Maiman, CEO/President of FCB Health, as Industry Person of the Year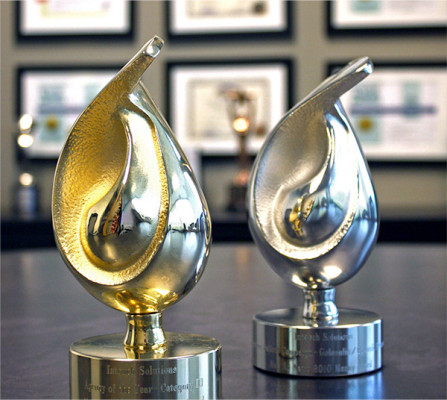 Med Ad News, the leading pharmaceutical business and marketing publication, announces the nominees for the 28th Annual Manny Awards, celebrating the best in pharmaceutical and healthcare advertising, and announces Dana Maiman as the Industry Person of the Year. The Manny Awards annual gala event celebrates creative excellence in healthcare advertising and communications. More than 600 industry peers are expected to join Med Ad News in honoring winners across 20 total award categories, including the year's Most Creative Agency, Most Admired Agency, Best Launch Campaign, Agency of the Year I, II and III, and more. The Manny Awards ceremony will be held on Thursday, April 20, 2017, at Pier Sixty at Chelsea Piers in New York City.
The Med Ad News "MedAdvocate" jury met March 16 for a roundtable discussion of finalist campaigns previously determined via online voting, and included selections from over 100 eligible voters across healthcare communication agencies. In order to take a deeper dive into the finalist campaigns, a panel of experts dubbed "MedAdvocates" were each assigned specific campaigns and tasked to initiate meaningful dialog amongst the jurors. MedAdvocates were selected based on their creative expertise and widely recognized performance within the industry. Ultimately, the team scored each finalist campaign using a point system that, combined with the popular vote conducted online, arrived at the eventual winners to be crowned on April 20, 2017.
Med Ad News is thrilled to recognize as its 2017 Person of the Year, Dana Maiman, CEO/President of FCB Health. Dana Maiman brings the intellectual prowess and strategic rigor of a legal education to her position as the CEO and president of FCB Health's family of companies worldwide.
Also a member of FCB's Global Executive Team, Maiman has combined her strategic orientation with a single-minded commitment to client service, resulting in the healthcare agency's impressive growth under her leadership. In recent years she has focused on expanding the agency's global footprint with acquisitions of agencies such as Hudson Global in the U.S. and Halesway in the U.K., and alliances with networks such as Argon – a coalition of 22 healthcare agencies spanning Europe, Asia, the Middle East and South America.
Her 20 years of client service and healthcare marketing experience mean Maiman has worked on virtually every therapeutic category from antibacterials, women's healthcare and cardiovascular to diabetes, oncology and HIV in a multi-channel fashion, integrating professional, consumer, patient, payer and digital. She has been involved with numerous U.S. and global launches including Vioxx, Cialis, Yervoy, Gilenya, Januvia, Singulair AR, Fosamax Once-Weekly and Nuvigil, among others. Her client list includes pharmaceutical companies big and small, such as Bristol-Myers Squibb, Boehringer Ingelheim, Merck, GSK, Pfizer, Gilead, Roche, Amgen and Novartis. A graduate of Brandeis University and St. John's Law School, as well as a member of the New York State Bar, Maiman has worked within the FCB network since 1999. Before joining the agency, she served as director of client services for both Grey and Harrison & Star/Omnicom in New York.
Additional Manny Awards honor the agency community for their exceptional forward thinking and philanthropic efforts. The Vision Award recognizes exceptional ideas and initiatives that have the power to transform the way that healthcare communications agencies do business. The Heart Award was created by the Med Ad News editorial staff to recognize agencies' social responsibility and commitment to philanthropic and social causes, and includes a cash donation to those altruistic efforts. A separate press release will be issued in regards to the 2017 Heart Award.
Voted by industry peers and the expert panel of MedAdvocates, along with the editors of Med Ad News, the 2017 Manny Awards nominees include:
Agency of the Year – Category I
Area 23
CDM
Juice Pharma Worldwide
Agency of the Year – Category II
Fingerpaint
Heartbeat
McCann Echo
Agency of the Year – Category III
Vision Award
Intouch Solutions / Pixacore
Outcome Health
TBWA\WorldHealth
Most Admired Agency
AbelsonTaylor
Area 23
GSW
Best Launch Campaign
DDB Health – Zurampic
GSW – Trulicity "It Clicks"
Juice Pharma – Spiriva Respimat
Most Creative Agency
AbelsonTaylor
Area 23
CDM New York
Best Consumer Campaign
Area 23 – diaTribe
McCann Echo – Toddler Tips Sleep Awareness Campaign
precisioneffect – Cologuard, Get.Go.Gone
Best Interactive Patient Campaign
GSW – Atrovent HFA "Meet the Puffagins"
Havas SF – MS Voice Program
McCann Healthcare – Nasty or Nice
Best Interactive Physician Campaign
Area 23 – Time Hides Alz
Dudnyk – Sivextro "6"
Heartbeat – The Naked Truth Campaign
Best Managed Markets Campaign
Entrée Health New York – Victoza
GSW – Trulicity
McCann Managed Markets – Heart Connections
Best Medical Device Campaign
Area 23 – The Breakthrough Cancer Pain Movement (Lazanda)
Elevate – Evzio Seconds Count
FCB Health – Lucentis
Best Nonbranded Campaign
Area 23 – The Drama in RA
CDM Princeton – Protect Little Lungs
FCB Health – Her Endometriosis Reality
Best Philanthropic Campaign
AbelsonTaylor – Power of One
GSW – CureSMA "One Gene Away"
McCann Torre Lazur – Flick You
Best Point-of-Care Campaign
Centron – Ipsen "Someday When I Am Bigger" Storybook
ghg – It's Best To Test
Sentrix – Conversations in Motion
Best Professional Campaign
Area 23 – The Tables Have Turned (Lartruvo)
Heartbeat – The Naked Truth Campaign
Palio – Grunenthal "Protect the Pill" Campaign (Intac)
Best Self-Promotional Campaign
GSW – Creativity Works
McCann Healthcare – #GoodPress
TBWA\WorldHealth – Future of Vision
The awards ceremony will conclude with a reveal of our "Indelible Ink" creative category winner of the tattoo design challenge, celebrating healthcare marketing and the Manny Awards.
Med Ad News congratulates Industry Person of the Year Dana Maiman and all award nominees.
The 2017 Manny Awards celebration on Thursday, April 20, 2017, at Pier Sixty at Chelsea Piers in New York City will begin with a cocktail hour at 6:30 p.m., followed by a sit-down dinner at 7:30 p.m., and will conclude with a post-awards cocktail hour. The awards ceremony will commence at 8:30 p.m. The event is black tie.
2017 event sponsors include Platinum sponsors: Calcium, Fingerpaint and Intouch Solutions; and Gold sponsors: Centron, Concentric Health Experience, Dudnyk, Juice Pharma and TBWA\WorldHealth.
For reservations, visit www.mannyawards.com or contact Daniel Becker at Daniel.becker@medadnews.com.