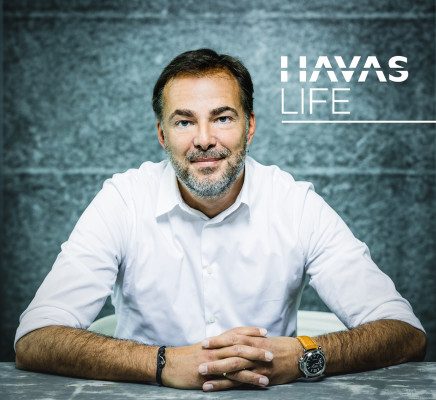 We recently sat down with Dirk Poschenrieder, Managing Director of Havas Life in Düsseldorf to discuss his aspirations for the agency:
AdevrtisingHealth (AH): Hi Dirk, thanks for taking the time to chat to us. Firstly, would you mind telling us a little about your background?
Thank you too!
I started my "healthcare career" as a Digital Marketing Manager for Janssen – Pharmaceutical Companies of Johnson & Johnson. Then I went agency side, something which is normally the other way around. When you are getting older you are leaving the agency and settling down in a company, but that wasn't my way! After Janssen I began to work for Razorfish Health (Publicis Healthcare Communications) as Director of Digital Strategy. Unfortunately, the office in Düsseldorf was closed so I was forced to search for a new professional home which I found in Territory, A Bertelsmann company. At Territory I had the chance to set up a healthcare business unit from nothing.
During the middle of last year I began speaking with Havas, and I was immediately inspired by the power, vision and entrepreneurial spirit. At the end they offered me a once-in-a-lifetime opportunity: to become the new Managing Director for Havas Life in Düsseldorf. And here I am now!
And by the way: It was my best decision ever (apart from the day I married my wife!).
AH: Can you give us a bit of an insight into Havas Life Düsseldorf? What are your aspirations for the agency?
At Havas we have the 'Together Strategy'. In brief this means: We will be the world's best company at creating meaningful connections between people and brands through creativity, media, and innovation to inspire healthier lives. And we are on a journey to make health & wellness more meaningful by promoting healthy living decisions together. And this is something which is more of an attitude than a style. It's all that drives me every day! And that's the spirit I want to create in our agency.
Another important thing for me are our employees. It's my duty that they are engaged and happy and have a long-lasting perspective in our agency. It's my job to give them the opportunity of personal growth, so that they can develop further and have everything the need to do a great job.
AH: What are the biggest benefits of being part of a global network like Havas Health and You?
The Havas Health & You network is the most fascinating agency network in our industry at the moment. With a true global footprint (we have more than 4.000 experts working in over 150 offices) we are visible for our clients and we can really handle large accounts. From global to local or the other way round. That's not a problem for us! And what makes Havas zu exciting is the mix of global network and owner-managed agency. So we have the best of both worlds.
AH: What is the most important thing to you when it comes to daily business? What do you value most?
Hm, that's a very good question. Apart from the normal 'agency madness' it's personally extremely important for me that we act like entrepreneurs: that we are innovative, accountable, collaborative and committed, and last but not least generous. At Havas we are doing a lot of Pro-Bono-Work to give something back to the society. The latest example of our engagement is the global Partnership with Save the children. Every entity of the Havas Health & You network will help more than 100 children globally in 2017 by engaging its agencies to each sponsor a child for a full year by giving children a healthy start, the opportunity to learn and protection from harm, among other activities.
Or take a look at Havas Lynx in Manchester, our sister agency. To offset the damage of their travelling's they will be planting trees in the UK.
It's my firm conviction that we all have a social responsibility apart from the normal business.
AH: Is there any recent work from your team that you are proud of, and that you can tell us about?
Yes! There is a lot I'm proud of, but there's one thing I really love. In the middle of the year we got invited to pitch. Our client – a global Pharmaceutical company – was looking for an agency who could run a national umbrella brand campaign. With us they invited three other agencies. And they were all 'classical consumer agencies'. Havas Life Düsseldorf was the only one with a healthcare background. And what can I say? We succeeded!
Unfortunately, I can't name the company, but by the end of the year you will see our first piece of work.
AH: Do you look at other healthcare agencies around the world? Who do you think is making the best work at the moment? And what is your favorite campaign at the moment?
Yes. I do. I follow most of them on Twitter. It's never wrong to know your enemy

But who's making the best work? The question isn't fair, because I wouldn't name any competitor. Never ever!
AH: If you could read an interview on Advertising Health from anyone in healthcare advertising who would it be with?  And what would you want to know?
There are a lot of fascinating guys working in our industry, but is there someone special I have in mind? No. Outside of our industry it would be John Nosta. He's an expert in his field and I love his engagement and his thoughts. He really is the thought leader of Digital Health!
AH: Is there any advice or anything you'd like to say to our readers?
Join us! That's all.