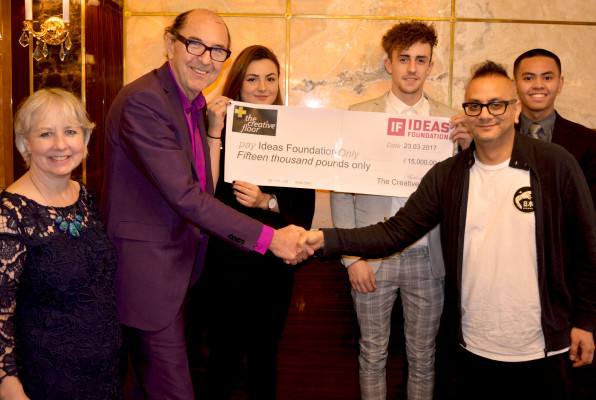 The Creative Floor Healthcare Awards have awarded their £15,000.00 2016 Talent & Diversity Fund to the Ideas Foundation, for a second year.
Any charity or organisation from across the world could apply for the money. All they had to do was answer the following brief:
How would you use the fund to help increase untapped talent and diversity into health and wellness communication agencies?
This years submissions came from School of Communication of Arts 2.0, Pitch It, Creative Access, Nutri Troops and The Ideas Foundation. Winners of the 2016 awards voted on the winner.
The Ideas Foundation remit is to help disadvantaged teenagers find a career in advertising. The money will help them continue to direct more diversity and talent (who wouldn't normally have the opportunity) into health and wellness agencies.
Heather MacRae, Managing Director, Ideas Foundation said: "Our mission at the Ideas Foundation is to make exciting, creative career paths open to all teenagers. With The Creative Floor funding, we will be able to give young imaginative minds the opportunity to work with some of the world's coolest comms companies, working on healthcare briefs."

Robin Wight, Founder, The Ideas Foundation said: "We are so thrilled that the Ideas Foundation has won this wonderful award for the second year. The impact of the work we did on mental health last year working with McCann Health was so impressive." 

Shaheed Peera, Founder, The Creative Floor Healthcare Awards said: "A massive thank you to everyone who supports our award show. Talent is the life-blood of our industry.  Being able to help build an infrastructure that pipelines more diversity and untapped talent into it can only be a good thing. This year we are looking forward to celebrating more creative excellence and raising even more money for this years Talent & Diversity Fund."
EXTENDED FINAL DEADLINE – 14 APRIL
To visit the site please go to: http://thecreativefloor.com/awards