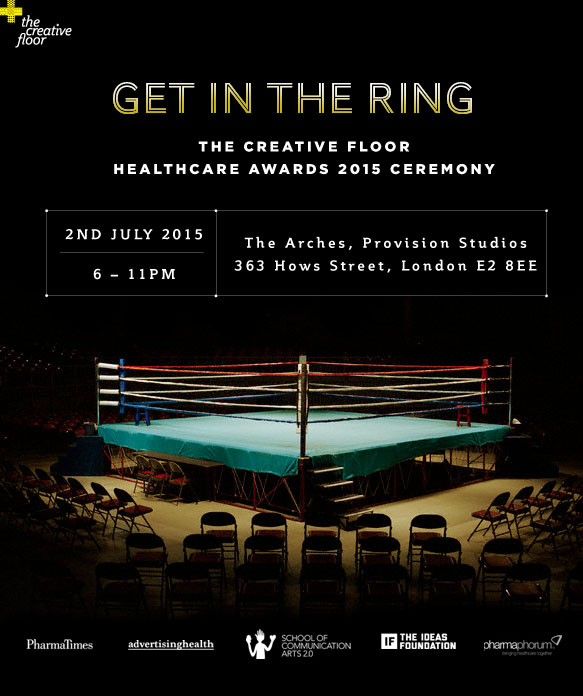 With over 600 entries, making it possibly the biggest healthcare award show in the UK.
The judges came from Apple, Droga5, Paul Belford Ltd. Digitas Health Life Brands, Langland, DJM, McCann Healthcare, The CementBloc, FCB Health, DLKW/LOWE, Ward6 and AMV BBDO.
It was a blood bath with almost 50% of categories being wiped out from the first round.  Only 5% of entries made it through to the finals.
Now to the winners….
PATIENT & CONSUMER
Ambient -  Free Killer Tan by Area 23
Art Direction - Happy Fuel Book, HealthWellNext -The Cement Bloc
Smart Phone App - Saizen, Merc Serono W2O Group
Cinematography - Sniffers by Langland
Copywriting - Flu Etiquette by Area23
Best Individual Film - Sniffers by Langland
Illustration - Area23 with Flu Etiquette
Poster-Campaign - Street Fare by Saatchi & Saatchi Wellness
Press Campaign - The State of Diabetes by Area23
Social Media - Worthliving by McCann Torre Lazur / 2nd winner – Sniffers by Langland
Website - Genepeeks by Concentric Health Experience
HEALTHCARE PROFESSIONAL
Digital Detail Aid - Humalog, Eli Lilly by GSW Advertising
Exhibitions - This is stroke by Publicis Life Brands Resolute
Best Individual Film - This is stroke by Publicis Life Brands Resolute
Internal Communications - Inspiring Change by Publicis Life Brands Resolute
Mixed Media Campaign - Nexgard by Publicis Life Brands Resolute
Poster Campaign - Boring Posters, Shield Therapeutics by CDM LONDON
Individual poster - Didn't Bother, Shield Therapeutics by CDM LONDON
Press campaign - Cow & Gate by Pan Unlimited
Press Individual - Thick and Easy by Havas Life Medicom
Print sales aid - Psorisis Burdens Janssen Biotech by FCB Health
Best Symposium  - Boring Symposium by CDM London
BUSINESS TO BUSINESS
Self promotional – Individual - HealthWellNext by The Cement Bloc
Self promotional – Campaign - The Health Fix by Cocentric Health Experience / We Speak People by GSW Advertising
Other Business to Business - Reach your Motential by Area23
BEST OF THE BEST
Bravest Client - Teva Neuroscience from McCann Torre Lazur
Best Healthcare Company - Regeneron Pharmaceuticals The CementBloc
Best Suit - Julie Yoon The CementBloc
Best Young Talent - Alicia Case Publicis Life Brands Medicus
Best Creative - Steve Walsh from The Cement Bloc New York