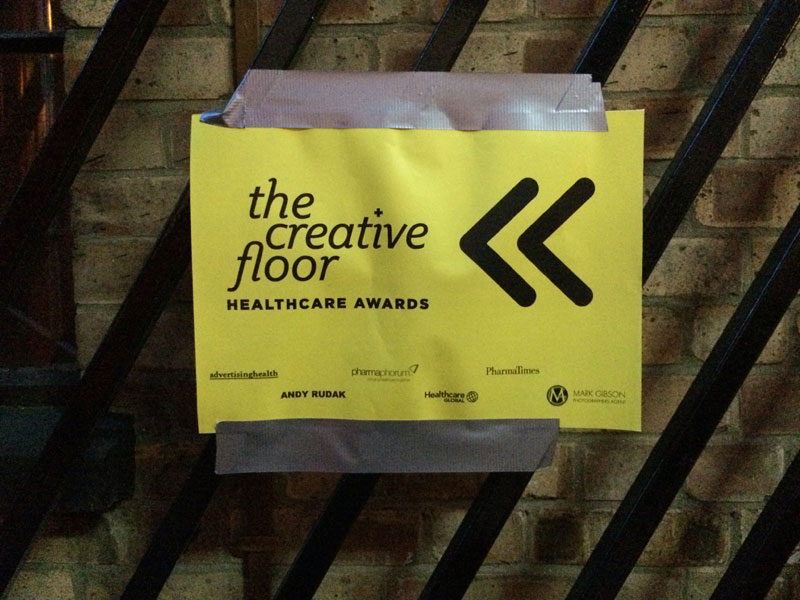 The only healthcare award show to donate a percentage of profits to The Creative Floor Fund that will go towards helping young talent break into the health and wellness industry. Winners of the show get to vote on where it gets spent.
The only one that brings the best creative judges from consumer and healthcare agencies – in order to keep the creative standard on par with the rest of the world. And to expose and showcase how great healthcare creative can be to a wider talent pool.
There are no bronzes, Silvers or Golds. Only Finalists and Winners.
Out of 58 categories only 32 made it through with Finalists. And out of those there where only 29 Winners from 26 categories.
Shaheed Peera, The Creative Floor told us "The judging process was an experiment to see if it was possible to raise the creative bar by doing things differently from every other healthcare award show. Bringing the best judges from consumer and healthcare. The combination proved ruthless. It became an absolute blood bath. Half of the categories where completely wiped out in round one. At one point I didn't think we were going to have an awards show! In the end only a handful of Winners made it. It was worth it as what did make it through is fantastic. Brilliant ideas beautifully executed."
OK so here we go…
Patient/Consumers
Best Individual Press – ATAXIA by TBWA LONDON
Best Campaign Press – ATAXIA by TBWA LONDON
Best Individual Poster – Step of the street by Ursa Clemenger
Best Print Sales Materials – No winner
Best art direction – ATAXIA by TBWA LONDON
Best Photography – ATAXIA by TBWA LONDON
Best Copywriting – ATAXIA by TBWA LONDON
BEST TYPOGRAPHY – No winner
Best individual Film – Must Have Gift by DLKW LOWE
Best Mixed Media – Get Around Knee by GSW
Best Website – Girls Right of Way by The Cement Bloc
Best Ambient – The Passage Boards by Publicis Life Brands Resolute
Best Social Media Campaign – No winner
Best Digital Tactic – No winner
Best animation – AIIR Patient Recruitment by Langland
Best Smart Phone App – Happy Fuel by The Cement Bloc
HEALTHCARE PROFESSIONAL
Best Press Campaign - Everyday Pains by Langland
Best Poster Campaign – No winner
Best Digital Tactic – DJM with Prolia Virtual X Ray skeleton
Best Digital Detail Aid – No winner
Best Website – I did this with Idis by Langland
Best Direct Mail – Guide to Self Infusion by Langland
Best Social Media Campaign - The Care Challenge by Digitas Health Life Brands London
Best Mixed Media Campaign – Exposed by Langland
Best Animation – The Boy I Used To Know by Real Science Communications
BUSINESS TO BUSINESS
Self promotional – Individual - Bad Ad Generator – Publicis Life Brands Resolute
Self pro-motional – Campaign – Christmas Card by Langland
Other medium – Ice Cream by Klick Health
BEST OF THE BEST
Best Suit – Wendy Lavine from The Cement Bloc
Best Creative – Chauncey O'Neill from The Cement Bloc
Best Young Talent – David Stemler and Aaron Sidorov – from The Cement Bloc
Bravest Clients - Richard Greatorex, Langland / Celgene Abraxane Brand Team, The Cement Bloc