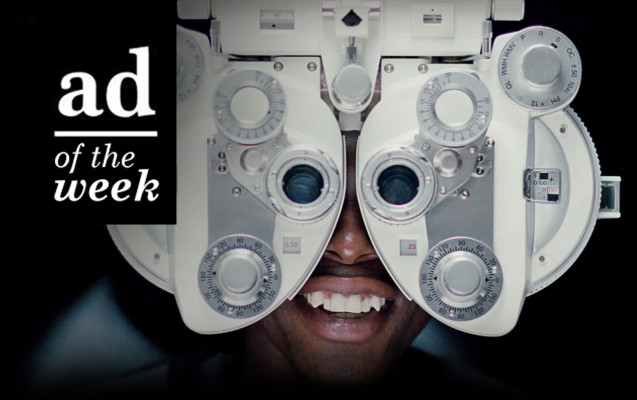 This past weekend saw the prestigious African and Middle Eastern creative award show – The Loeries – recognise brave campaigns from Communication Design to Online advertising. I've gone through all the winners and chosen 3 pieces of work that I thought might be the most relevant and inspirational to kickstart your week:
1. 'Project #OpenEyes' – Ster Kinekor
This moving short film is about a young man and movie enthusiast whose life is reduced to darkness by keratoconus, an eye disease that rendered him almost completely blind. "One day when I woke up I could not see anything", he says, "it was like a cloud". Without sight, Philani's once vibrant world withered away, as did the prospects of ever being able to see again due to the high cost of the surgery required to correct this ailment. This campaign followed Philani's story, which saw him receive a double corneal transplant made possible by Ster-Kinekor's Vision Mission.
Watch the case film here:
Project #OpenEyes  part 1:
Project #OpenEyes  part 2:
2. 'Testi-Monials' - CANSA Cancer Association of South Africa
Most men would rather hold their girlfriend's handbag in a crowded shopping mall than talk about their testicles. This is an educational campaign about Testicular Cancer (TC) – the most common cancer in young men aged 15 – 39, with the aim to both inform men and remove the stigma normally associated with discussing the topic. The campaign uses animated testicles giving their own "testimonials" of their experiences related to TC.
But there's only so much a media release can tell you about talking testicles. It's really something that you need to, erm, check out for yourself: www.testi-monials.co.za
#Havetheballs
3. 'Sit Down to Save Lives' - SANBS (South African National Blood Services)
SANBS wanted to encourage more people to donate blood, especially at the malls where mobile blood drives frequent. They needed to make shoppers aware of the fact that one pint of blood can save three lives and encourage them to donate blood there and then.
The installation involved a chair that was connected to three empty blood bags shaped like people. These blood bags were set up beside the chair with a message that read, "Every time you sit down to donate you save three lives." Utilising Archimedes' principle of displacement, when shoppers sat on the chair the three blood bags filled up with red (blood-like) liquid bringing the message to life for all to see.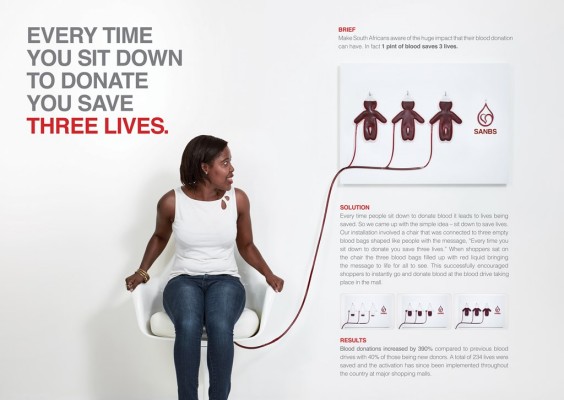 All the winners can be found on the Loeries® website (www.loeries.com). Perhaps you will come across an idea that will inspire your next big Pharma campaign.