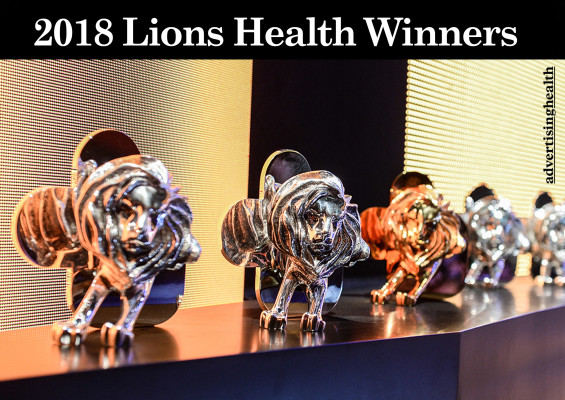 Lions Health, now in its fifth year, recognises outstanding creative communications in the healthcare sector. Louise Benson, executive festival director of Lions Health explains:
Lions Health was created to promote the value of creativity in healthcare communications. Every year the health juries set the bar that little bit higher, and every year the industry rises to meet that challenge.
Here are the big winners of the night:
2018 Lions Health, Healthcare Agency of the Year: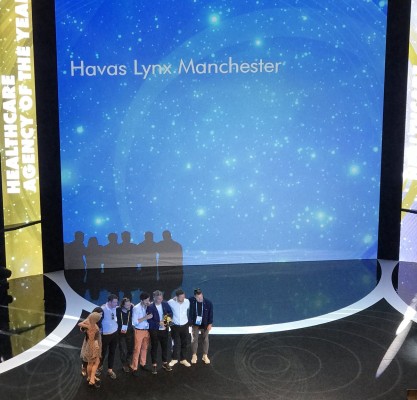 Winner: Havas Lynx Manchester
Runner-up: Area 23 (an FCB Health company)
2018 Lions Health, Healthcare Network of the Year: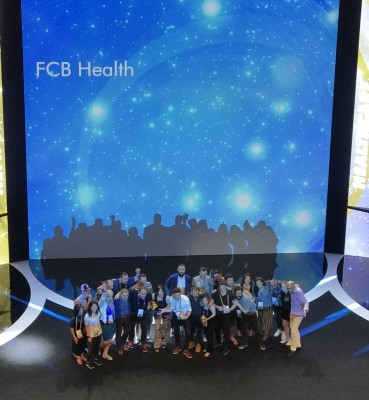 Winner: FCB Health
Runner-up: Havas Health & You
Health & Wellness Grand Prix:
This year's Health & Wellness Lions Grand Prix winner was the Corazon: Give Your Heart integrated campaign for Montefiore by John X Hannes, New York with production and additional by Harbor Picture Company, New York.
Grand Prix for Good:
Entries for public awareness messages, non-profit organisations and charities aren't eligible in their category, but are considered for the Lions Health and United Nations Foundation Grand Prix for Good.
This year's Grand Prix for Good went to TBWA/India (Mumbai) for the Asha Ek Hope Foundation social service's 'Blink to Speak'.
View the full tables of winning work below:
Health and Wellness Lions winners
| | | | | | |
| --- | --- | --- | --- | --- | --- |
| Entrant | Country | Client | Product | Title | Award |
| JOHN X HANNES, New York | USA | MONTEFIORE | FILM, APP, OUTDOOR INSTALLATIONS, AND BILLBOARDS | CORAZÓN – GIVE YOUR HEART | Grand Prix |
| J. WALTER THOMPSON BANGKOK | THAILAND | KLEENEX | FACIAL TISSUE : SKIN CARE | TINY DOLL | Gold Lion |
| SERVICEPLAN GERMANY, Munich / SERVICEPLAN KOREA, Seoul / DOT INCORPORATION, Seoul | GERMANY | DOT | DOT MINI | DOT MINI. THE FIRST SMART MEDIA DEVICE FOR THE VISUALLY IMPAIRED. | Gold Lion |
| CARREFOUR, Massy / MARCEL, Paris | FRANCE | CARREFOUR | CARREFOUR | BLACK SUPERMARKET | Gold Lion |
| Y&R MELBOURNE | AUSTRALIA | MONASH UNIVERSITY | MONASH UNIVERSITY | SIP SAFE | Gold Lion |
| RPA, Santa Monica | USA | PEDIATRIC BRAIN TUMOR FOUNDATION | HEALTH | IMAGINARY FRIEND SOCIETY CAMPAIGN | Gold Lion |
| RPA, Santa Monica | USA | PEDIATRIC BRAIN TUMOR FOUNDATION | HEALTH | IMAGINARY FRIEND SOCIETY CAMPAIGN | Gold Lion |
| ENERGY BBDO, Chicago | USA | NATIONAL SAFETY COUNCIL | NATIONAL SAFETY COUNCIL | NATIONAL SAFETY COUNCIL "PRESCRIBED TO DEATH" | Gold Lion |
| adam&eveDDB, London | UNITED KINGDOM | CALM | CALM | PROJECT 84 | Gold Lion |
| J. WALTER THOMPSON BANGKOK | THAILAND | KLEENEX | FACIAL TISSUE : SKIN CARE | TINY DOLL | Silver Lion |
| McCANN BIRMINGHAM | UNITED KINGDOM | DEXCOM | G6 GLUCOSE MONITORING SYSTEM | RYAN & SUZIE | Silver Lion |
| GREY INDIA, Mumbai | INDIA | MAHINDRA RISE | SELF-EXAMINATION FOR BREAST CANCER | THE HEALTH PURSE (SEHAT KA BATUA) | Silver Lion |
| mcgarrybowen Shanghai | CHINA | ALZHEIMER'S DISEASE CHINESE | ALZHEIMER'S DISEASE AWARENESS COMMUNICATION | THE FADING FONT | Silver Lion |
| Y&R BRAZIL, São Paulo | BRAZIL | SANTA CASA DE MISERICÓRDIA DE SÃO PAULO | INSTITUTIONAL | HEMOJI | Silver Lion |
| OGILVY & MATHER, Chicago | USA | COOK COUNTY HOSPITAL | AIRBNBABY | THE TINIEST LISTING | Silver Lion |
| JAZZ COMMUNICATION, Bucharest / MAGICAMP NGO, Bucharest | ROMANIA | MAGICMAKERS NGO | MAGIC HOME – A SHELTER FOR PARENTS WITH SICK CHILDREN | TAKE A SEAT | Silver Lion |
| DDB MUDRA GROUP, Mumbai | INDIA | JOHNSON & JOHNSON | STAYFREE SANITARY PADS | PROJECT FREE PERIOD | Silver Lion |
| WMcCANN, São Paulo | BRAZIL | HOSPITAL DE AMOR | INSTITUTIONAL | THE FALL | Silver Lion |
| JOHN X HANNES, New York | USA | MONTEFIORE | FILM, APP, OUTDOOR INSTALLATIONS, AND BILLBOARDS | CORAZÓN – GIVE YOUR HEART | Silver Lion |
| McCANN NEW YORK | USA | CIGNA | CIGNA | TV DOCTORS OF AMERICA – SEASON 2 | Silver Lion |
| OGILVY AUSTRALIA, Melbourne | AUSTRALIA | SUNCORP | AAMI | AAMI SMARTPLATES | Silver Lion |
| McCANN NEW YORK | USA | RECKITT BENCKISER | MUCINEX | #SUPERSICKMONDAY | Bronze Lion |
| DROGA5, London | UNITED KINGDOM | BULK POWDERS | SPORTS NUTRITION | NEGOTIATION | Bronze Lion |
| GEOMETRY GLOBAL, Prague | CZECH REPUBLIC | NEURODIGITAL | HAPTIC GLOVES | TOUCHING MASTERPIECES | Bronze Lion |
| BWM DENTSU, Sydney | AUSTRALIA | THE ALS ASSOCIATION | CHARITY | PROJECT REVOICE | Bronze Lion |
| J. WALTER THOMPSON COLOMBIA, Bogotá | COLOMBIA | EASY TAXI /COLOMBIAN RED CROSS | TAXI SERVICE | EASYASSISTANCE | Bronze Lion |
| CHEIL WORLDWIDE, Madrid | SPAIN | SAMSUNG / FECMA | SAMSUNG | WAR CORRESPONDENTS ON BREAST CANCER | Bronze Lion |
| McCANN HEALTH, New Delhi / McCANN INDIA, Mumbai | INDIA | KWALITY LTD. | KWALITY MILK | NOON ASSEMBLY | Bronze Lion |
| TBWA\PARIS | FRANCE | JACCEDE.COM | ASSOCIATION FOR DISABLED PERSONS | BOREDOM | Bronze Lion |
| TBWA\PARIS | FRANCE | AIDES | NGO | #SHARETHELOVE | Bronze Lion |
| OGILVY GERMANY, Frankfurt | GERMANY | EUROPEAN ANTI-BULLYING NETWORK (EAN) | EUROPEAN ANTI-BULLYING NETWORK (EAN) | ESCALATING GIFS | Bronze Lion |
| VML, Bogotá | COLOMBIA | AMBLYOPIA WORLD CAMPAIGN | AMBLYOPIA WORLD CAMPAIGN | I RESCUE | Bronze Lion |
| BETC/HAVAS, São Paulo | BRAZIL | ASSOCIAÇÃO INTERNACIONAL HABITAT PARA A HUMANIDADE | ANTI MOSQUITO POSTERS | DISSOLVING POSTERS | Bronze Lion |
| &CO, Copenhagen | DENMARK | THE DANISH CANCER SOCIETY & TRYGFONDEN | THE DANISH CANCER SOCIETY & TRYGFONDEN | HELP A DANE | Bronze Lion |
| TBWA\NEBOKO, Amsterdam | THE NETHERLANDS | FONDS GEHANDICAPTENSPORT | CHARITY | ZWEMMER | Bronze Lion |
| BBDO CHILE, Santiago | CHILE | CORPORACIÓN DEL TRASPLANTE | CORPORACIÓN DEL TRASPLANTE ONG | CALL OF HOPE | Bronze Lion |
| BEARS CALLING, Berlin | GERMANY | LEAPS BY BAYER | HEALTHCARE | THE LEAP OF FAITH | Bronze Lion |
| ENEL ROMANIA, Bucharest / PUBLICIS ROMANIA, Bucharest | ROMANIA | ENEL ROMANIA | - | THE NEST ADDRESS | Bronze Lion |
| COLENSO BBDO, Auckland | NEW ZEALAND | MARS | PEDIGREE | THE CHILD REPLACEMENT PROGRAMME | Bronze Lion |
Pharma Lions winners
| | | | | | |
| --- | --- | --- | --- | --- | --- |
| Entrant | Country | Client | Product | Title | Award |
| TBWA\INDIA, Mumbai | INDIA | ASHA EK HOPE FOUNDATION | SOCIAL SERVICE | BLINK TO SPEAK | Gold Lion |
| CHE PROXIMITY, Melbourne | AUSTRALIA | COCHLEAR | COCHLEAR HEARING IMPLANTS | THE HEARING TEST IN DISGUISE | Gold Lion |
| GRUNENTHAL, High Wycombe / LANGLAND, Windsor | UNITED KINGDOM | GRUNENTHAL | DISEASE AWARENESS | CHANGE GOUT | Gold Lion |
| HAVAS LYNX, Manchester | UNITED KINGDOM | MUNDIPHARMA | BIPHENTIN | THE SCREAMER, THE DISRUPTOR | Silver Lion |
| AREA 23, AN FCB HEALTH NETWORK COMPANY, New York | USA | BAYER PHARMACEUTICALS, INC. | XOFIGO® (RADIUM RA 223 DICHLORIDE) | BATTLE IN THE BONE | Silver Lion |
| FCB HEALTH, New York | USA | BOEHRINGER INGELHEIM | STIOLTO RESPIMAT | GARAGE, LIVING ROOM, KITCHEN | Silver Lion |
| McCANN NEW YORK | USA | TAKEDA/TRINTELLIX | TRINTELLIX | LIGHTER BLUE | Silver Lion |
| CHE PROXIMITY, Melbourne | AUSTRALIA | COCHLEAR | COCHLEAR HEARING IMPLANTS | THE HEARING TEST IN DISGUISE | Silver Lion |
| AREA 23, AN FCB HEALTH NETWORK COMPANY, New York | USA | ELI LILLY AND COMPANY | HEALTH | THE WORLD'S SMALLEST BOOTH | Silver Lion |
| CDM NEW YORK | USA | BIOGEN | SPINRAZA UNBRANDED | ZACS PLAY DAY | Silver Lion |
| HAVAS LYNX, Manchester | UNITED KINGDOM | CHUGAI / ROCHE | SYSTEMIC JUVENILE IDIOPATHIC ARTHRITIS PATIENT SUPPORT | OUCHIE | Silver Lion |
| NBS, São Paulo | BRAZIL | CLIN KIDS | NEBULIZER MASKS FOR CHILDREN | STORIES TO INHALE | Silver Lion |
| OGILVY & MATHER COLOMBIA, Bogotá | COLOMBIA | ECUADOR MINISTRY OF PUBLIC HEALTH | SAVOR SAVER | SAVOR SAVER | Silver Lion |
| ELANCO ANIMAL HEALTH, Basingstoke / SAATCHI & SAATCHI DÜSSELDORF | UNITED KINGDOM | ELANCO | DEWORMING PRODUCT | DOG, CAT | Silver Lion |
| FCB HEALTH, New York | USA | BOEHRINGER INGELHEIM | STIOLTO RESPIMAT | GARAGE, KITCHEN, LIVING ROOM | Bronze Lion |
| KLICK HEALTH, New York | USA | NOVARTIS | EDUCATION | THE WRESTLER | Bronze Lion |
| FLEISHMANHILLARD, Dublin | IRELAND | ROCHE PRODUCTS (IRELAND) LIMITED AND MS IRELAND | DISEASE AWARENESS AND HEALTHCARE ACCESS | THE MSUNDERSTOOD CAFÉ | Bronze Lion |
| McCANN HEALTH, Shanghai | CHINA | GLAXOSMITHKLINE (GSK) | CERVICAL CANCER VACCINE | A WARNING FROM THE FUTURE | Bronze Lion |
| DAVID, Buenos Aires | ARGENTINA | NOVARTIS | NOVARTIS | #TREATMEKINDLY | Bronze Lion |
| GRUNENTHAL, High Wycombe / LANGLAND, Windsor | UNITED KINGDOM | GRUNENTHAL | DISEASE AWARENESS | CHANGE GOUT | Bronze Lion |
| CHE PROXIMITY, Melbourne | AUSTRALIA | COCHLEAR | COCHLEAR HEARING IMPLANTS | THE HEARING TEST IN DISGUISE | Bronze Lion |
| HAVAS LYNX, Manchester | UNITED KINGDOM | ASTRA ZENECA | BRILINTA | THE ATTACK | Bronze Lion |
| THE CLASSIC PARTNERSHIP ADVERTISING, Dubai | UNITED ARAB EMIRATES | DUBAI HEALTH AUTHORITY | PRESCRIPTION LABEL | RX PRESCRIPTION STICKERS | Bronze Lion |
(Original article can be found
here
)