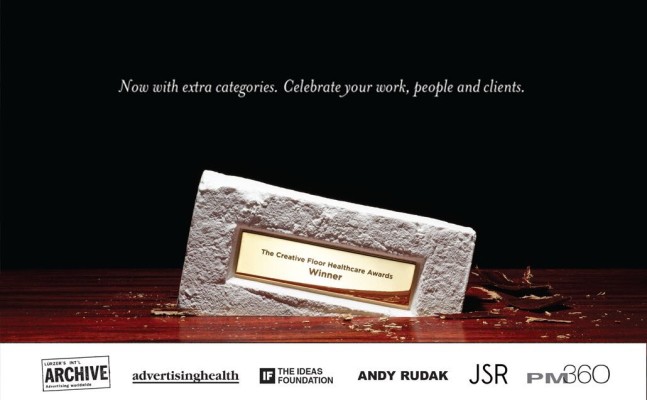 The Creative Floor Healthcare Awards 2018 will celebrate the world's best health and wellness creative, clients and agency talent.
FINAL DEADLINE FOR ALL ENTRIES HAS BEEN EXTENDED TO 20th JULY 2018
To enter please go to: http://thecreativefloor.com/awards
Here's a quick reminder of this year's judges:
Ben Kay, Creative Director, Apple
Tea Uglow, Executive Creative Director, Google Labs
Rankin, Photographer, rankin.co.uk
Trevor Beattie, Founder, BMB
Christoph Bohlender, Serviceplan, Germany
Kathy Delaney, Global Chief Creative Officer, Saatchi & Saatchi Wellness
Bernardo Romero, Creative Director, Area23  
Debra Polkes, Global Creative Director, CDM
Andrew Morley, Creative Director, Langland
Jeremy Perrott, Global Creative Director, McCann Health
Cherie Davies, Executive Creative Director, Sudler, Sydney
Michael Sanzen, Chief Creative Officer, Concentric Health, New York
Cam Blackley, Executive Creative Director, M&C Saatchi, Sydney
Stephen Neale, Executive Creative Director, AbelsonTaylor
Nicholas Capaner, Executive Creative Director, GSW
Phil Cockrell, Creative Director, Crispin Porter Bogusky
Shaheed Peera, Founder said: "We will continue to celebrate agencies and clients who do brilliant work on real bread and butter briefs. This year we've bought the greatest line up of judges any healthcare award show has ever seen. This is fantastic exposure for the creative healthcare industry and a testament to the standard of what winning one of these awards mean. I humbly thank everyone who supports this award show and I'd like to wish you all the very best of luck. This is going to be our best one yet."
Sponsors of the this years award show are:
Lürzer's Archive, Advertising Health, PM360, Andy Rudak Photography, JSR and The Ideas Foundation
Good luck to everyone entering. See you at the show!