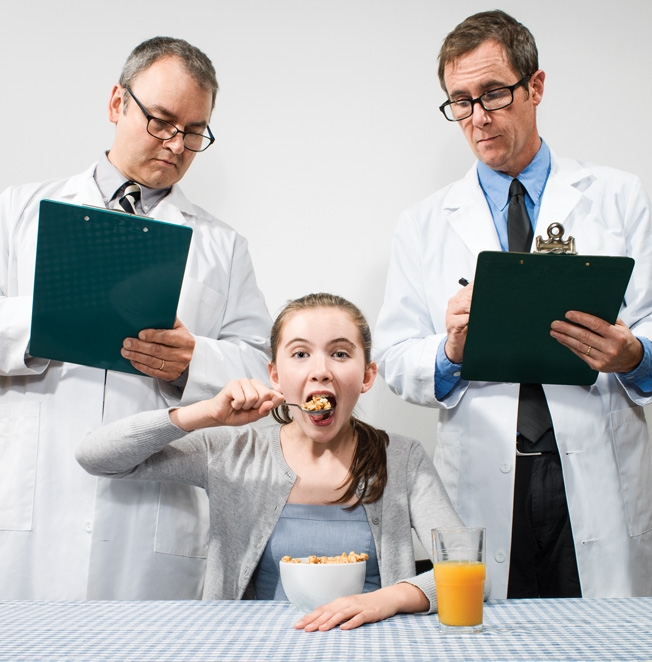 "Justin, a 12-year-old with Type 1 diabetes, just started middle school and was bummed he had to regularly check his blood sugar between periods while his pals rushed to the next class. It's exactly the kind of everyday problem that drives parents of diabetic kids batty. But Justin figured out a solution by inventing a game called "Fantasy Diabetes," modeled after Fantasy Football. Fourteen of his classmates promptly signed up, and twice a week they gather around Justin after class, guess what his blood sugar is going to be before he tests it, and earn points for the best guess.
Justin's mom suggests the idea to other families, not in a diabetes support group but via Spoonful.com, created by Disney Publishing and pharmaceutical giant Eli Lilly, a producer of insulin and diabetes drugs. Spoonful.com doesn't look at all like a pharmaceutical website. Rather, it is punctuated with playful branded stories, games and tips to help young diabetic patients and their families manage the disease.
Welcome to the new world of Big Pharma marketing. Millions of citizens will sign up next year for health insurance under Obamacare (officially the Affordable Care Act, or ACA)—that is, if it isn't defunded in the latest budget showdown in Congress. That, coupled with the public's growing distrust of drug companies, is forcing a radical transformation of pharmaceutical branding. "The era of Big Pharma and the marketing of the magic of a pill is gone," says Kate Cronin, global managing director at Ogilvy CommonHealth PR. "Now, pharma brands are about everything that surrounds a pill, including services, disease awareness, education and prevention." (Nearly half of U.S. healthcare marketing execs in a Ogilvy CommonHealth survey this year agreed that the heyday of Big Pharma is history.)
Drugmakers are transitioning from pushing pills to insinuating their corporate identities into our daily lives—to the point consumers could feel them getting a little too close. They're filling their bags of marketing tricks with health and lifestyle content, cool mobile apps and educational outreach. "The ACA gives big pharma brands such as Lilly, Merck and Pfizer the opportunity to become [household names] in a patient-centric, partnership-driven way," says Fred Geyer, partner at Prophet, a brand consultancy. "Since patients with chronic disease are playing a larger role in treatment decision making, we clearly need to engage with them more at a corporate level," adds Kevin Cammack, senior marketing director at Lilly Diabetes.
The biggest target for this next-gen branding approach are patients dealing with the dangerous trio—obesity, diabetes and heart disease. There's serious ad spending on the table. Pharma marketers laid out more than $2.7 billion on consumer marketing in the U.S. last year, per Nielsen, and that's after hefty cuts in TV ad and sale rep budgets. Pharma's total spend last year on consumer and business-to-business marketing and sales hovered around $11 billion, according to an Ogilvy CommonHealth survey.
It's a challenging pivot for companies that are massive, traditional and cautious, warns Geyer, but industry executives privately acknowledge that they really have no choice. Still, they must contend with growing consumer skepticism over their motives. Last year, only 56 percent of consumers said they trusted the drug companies, according to Edelman. With the exception of a single player, Johnson & Johnson, the reputation of the industry continued to plummet in 2011, and the standing of two major pharmas—Pfizer and Merck—went from neutral to poor, according to research by Prophet.
Shifting Role
Healthcare reform and the ACA may seem like a confusing quagmire of new rules to the average American family, but Big Pharma sees three simple elements in the law that could upend the industry.
First, the ACA will result in primary care doctors becoming quickly overloaded as millions of people buy insurance and enter the system. Doctors, nurse practitioners and medical assistants will need help, and pharma companies can offer assistance. In return, the drugmakers can gain deeper understanding of their consumers and get a chance to boost consumers' flagging trust.
Merck's educational and marketing program MerckEngage is a good example of what to expect. It's a website that offers registered members free personal health tracking, daily planners, food and exercise tips, email messages, and content updates. Tucked between lists of healthier fast-food choices and videos on preparing for a doctor's visit are popular features including interactive tools that inform users how many calories they eat, drink and burn each day, and trackers that monitor blood pressure, blood sugar, weight, cholesterol, migraines and asthma symptoms. Doctors who sign up with Merck receive regular updates of their patients' activity. Since its launch in February 2010, the site has attracted 8.2 million visits, according to a Merck rep. This year, the program added mobile versions for both patients and healthcare providers. Since April, a mobile site has attracted about 102,000 visits.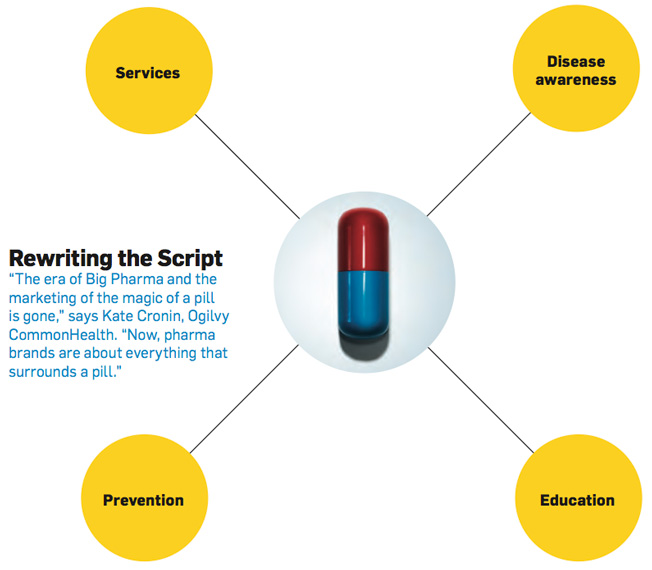 Second, the ACA seeks to keep patients with chronic conditions from getting sicker and ending up in expensive hospital beds. That usually requires patients not skipping medications, including drugs that may prevent heart attacks and strokes. Yet research indicates that more than half of patients with ongoing health conditions do not take or refill medicines their doctors prescribe.
That is gold for pharma marketers, gearing up branded programs to encourage consumers to adhere to their medication regimes, and in the process lowering the costs of medical care while boosting drug sales. "Adherence initiatives will be an important part of pharmaceutical outreach, including more personalized treatment and communications tailored for specialized audiences," says Cronin. In Britain, AstraZeneca, for example, is working with tech company Exco InTouch on mobile and Web-based tools designed to help patients and their doctors track and manage chronic conditions. The first app addresses chronic obstructive pulmonary disease. Patients enrolled in the program collect, transmit and review their own clinical data, while their doctors use real-time information to personalize each patient's care, adjust meds and possibly prevent hospitalization. The patients' identifiable data is only seen by patients themselves and their healthcare providers, says AstraZeneca.
Third, instead of individual doctors selecting what to prescribe, insurance companies and efficiency-focused healthcare networks (called accountable care organizations) will influence what drugs are prescribed, based on overall effectiveness. The price of the pill is just one part of that equation, says Geyer. "The value is also about the bundle of services the drug company offers patients and doctors, including behavior modification, education, tracking and help with dispensing the drugs." Pharma can brand and promote innovative bundles around specific conditions to win the favor of insurers and ACOs.
Lilly's online diabetes program pioneered this marketing approach. "For years Lilly has owned diabetes," says Geyer. The program began its Disney Publishing partnership three years ago and in 2011 introduced its "Everyday Life" Web portal covering a broad range of diabetes-related information. Like MerckEngage, the most well-traveled part of the site is the page where users can download portable customized tools. In Lilly's case the tools include a meal planner, a self-care diary, a carbohydrate tabulator and even an emergency guide in case of hurricanes or earthquakes. "Users prefer information that is portable and sharable," says a rep. Turning these popular tracking programs into interactive branded mobile apps is just a step away.
New to the scene is Merck's partnership with Geisinger Health System, a physician-led medical chain in Pennsylvania that also sells health insurance. Launched in July 2012, the collaboration includes plans for an app to connect doctors and nurses with patients at risk for Type 2 diabetes and heart disease. After testing, Geisinger will "study metrics like patient acceptance and treatment adherence to decide which solutions could be deployed on a broader scale," explains Dr. Glenn Steele Jr., CEO of the company.
Wave of Data
It's no surprise that pharma's branded tracking tools are finding acceptance out of the gate when one considers how fast products like the Nike+ FuelBand, Fitbit Flex and Jawbone Up have gone mainstream. (Such wristbands, priced at $100 to $150, measure activity and sleep, synching the data to a phone app that also measures calories.) All these tools tap into the do-it-yourself, on-the-go health-monitoring trend wherein consumers—with or without medical problems—collect data on their activities and often share the information and adjust their behavior based upon it.
The realization points to an incentive for pharma's embrace of marketing apps and customized websites. The digital outreach has the potential to collect data and reach targeted consumers in ways that were once impossible. At their most basic, data reveal patterns about how groups of patients behave and help brands develop marketing profiles for the groups. "The data can also identify what kind of consumer needs personal guidance and also what type responds to getting that guidance over the Web," Geyer adds.
Lilly Diabetes, for example, tracks the number of clicks on its pages and the number of downloads of its materials, but due to privacy concerns doesn't track who visits the site or downloads the planners, says a company rep. In contrast, those who register for MerckEngage give permission to Merck and its partners to send them personalized marketing content even if the portal is shut down. (Merck declined to divulge how many people had signed up for the program.)
Then, of course, there is the question of the role of social media, another rich source of data and targeting. But vague FDA regulations regarding social have most pharma brands wary of Facebook and other social channels—for now anyway.
There's no doubt that the huge numbers of consumers looking for health guidance via social platforms has grabbed the attention of Big Pharma, which is why about half of drug companies plan to increase their use of social in the coming years, reports KPMG. Naturally, that spells enormous opportunity for marketing, branding and public relations, and for the agencies contracted to perform these services. "This is the biggest disruption in healthcare we've ever seen, and every company in the industry is looking to reinvent itself," says Stig Albinus, chair of global healthcare at branding consultancy APCO Worldwide….
Read the full article on AdWeek – http://www.adweek.com/news/advertising-branding/welcome-new-face-big-pharma-marketing-152767